Ashes revenge fuels Watson
Shane Watson has revealed his "burning desire" to help Australia beat England - starting with this summer's ODI series.
Last Updated: 28/06/12 4:44pm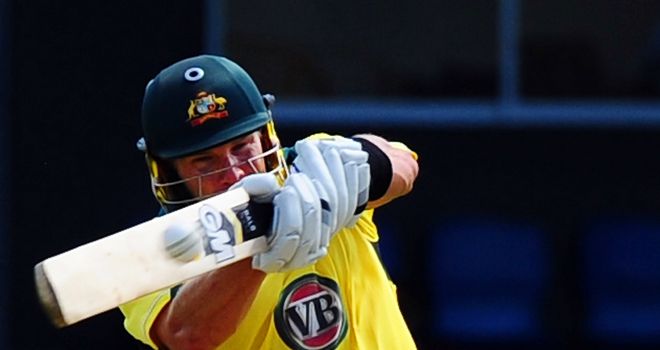 Shane Watson has revealed his "burning desire" to help Australia beat England.
Watson has been involved in two Ashes series defeats and nothing fuels his competitive fires more than the prospect of winning back the urn on English soil.
Before he has a chance to do that, though, he will have a rehearsal in a one-day series which begins at Lord's on Friday, 12 months ahead of the real thing.
"After being involved in two Ashes losses now, it is a burning desire inside me to be a part of a successful Ashes series," Watson said.
"Any time you play against England you want success. It is the ultimate rivalry and the ultimate challenge for an Australian cricketer, to play against England and win.
"I haven't been a part of that in Test matches and now is a time to be able to put some things in place so we can have some success when we come back here during the Ashes.
"We can learn about the cricket we need to play to beat the English over here.
"The England and Australian rivalry is the ultimate and whenever we get the chance to play against England in Test cricket or one-day cricket it is a very exciting prospect for everyone."
Australia are ranked number one in the world in ODIs but England are on the back of a record run of six successive series victories on home soil in the 50-over format.
England are set to go into the match with five specialist bowlers, with Tim Bresnan batting at number seven.
And the Yorkshire all-rounder is confident he can deliver.
"I'm happy where I am with my cricket at the minute. I know I can always improve with bat and ball but I'm striking it nicely," said Bresnan, who made his international breakthrough against Australia in 2010.
"I feel I could do a job wherever I am in the order. We are expecting a decent test against Australia. They are number one in the world and we respect them accordingly.
"It's always good to make a positive start no matter who you play against. We want to set the tone for the series and the rest of the game."
Watson, though, feels the batting line-up offers hope to Australia.
"If we are able to make inroads into their batting early they may be one short," Watson said.
"We see it is very important for us to have success here is to try and make early inroads. That has been one of England's strengths over the last period of time, to be able to score heavily.
"We know if we are able to make inroads it may expose a part of the England team that hasn't been exposed."