South Africa coach Gary Kirsten defended his team after Adelaide horror show
South Africa coach Gary Kirsten defended his team's preparations after day one of the second Test against Australia.
Last Updated: 22/11/12 3:58pm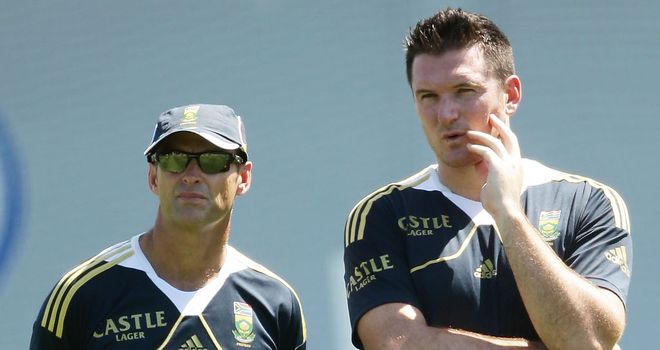 His pace brigade was stricken by injury, which meant his back-up bowlers were at the mercy of a hungry Michael Clarke and the Australian batsmen.
Having lost paceman Vernon Philander to a back strain prior to the match, South Africa then suffered another huge blow as Jacques Kallis went off with a hamstring injury after capturing two wickets before lunch.
Also limping off after tea to be treated for a leg strain, Dale Steyn did then return to the field yet the tourists finished the day bruised and demoralised as Australia accumulated a mammoth first-day total of 482-5 at the Adelaide Oval.
During a four-day lay-off after the drawn first Test in Brisbane, the team went fishing before training for four days in the lead-up to the second. Kirsten said he believed that was enough preparation for his bowlers.
He added: "First of all, we had four great days of prep leading into this game but it's always a thing that will come up.
"Often when we're home for a Test series we send players home and they come back two days ahead to prepare.
"There's no exact science to it. You can always find a way to criticise in some department.
"Every team goes through injuries at some point in time. I don't think we're unique to that. The fact that it happened on one day, I certainly don't have the answers to that. It was unfortunate."
Injuries
Kirsten said Philander's availability for the third and final Test remained a doubt, while Kallis would be unable to bowl again in Adelaide. However, Steyn was not badly injured.
Proteas team doctor Mohammed Moosajee said in a statement: "Vernon's scan reveals nothing more than a lower lumbar muscle strain as initially suspected.
"He will receive treatment and undergo rehabilitation during the course of the current test match and we are hopeful he will be fit for the final test in Perth."
Moosajee added that Kallis could still bat, with the team making a call on his fitness for Perth depending on his recovery.
Kirsten continued: "(Kallis) made a wise decision. As soon as he felt a twinge he got off the park quickly.
"Obviously from a batting perspective it's going to be important - these days we don't have runners, so it's going to be important that he can bat for us as well."