Ricky Ponting praised by colleagues and rivals following his decision to quit
The cricket world unites in its praise for Ricky Ponting following his decision to retire from internationals.
Last Updated: 01/12/12 11:51am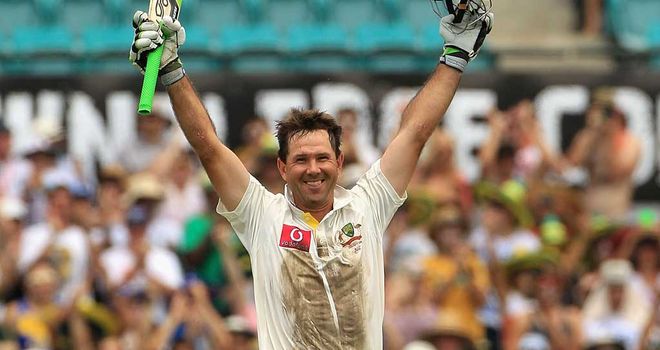 Ponting will step down after the third and final Test against South Africa, with the 37-year-old the second-highest Test run-scorer in the history of the game.
Australia captain Michael Clarke: "Ricky spoke to me after the Adelaide test match, and made his decision over the last little while. The boys are obviously hurting at the moment. He's been an amazing player for a long time."
England batsman Kevin Pietersen (via Twitter): "Ricky Ponting RETIRES.... ONE OF THE GREATS! I always got excited playing AUS, so I could watch him bat up close. Well done Punter!"
England bowler Stuart Broad (via Twitter): "Huge respect for how Ponting played the game. Tough competitor Aussies will miss him. 100 at Perth to finish?"
England wicketkeeper Matt Prior (via Twitter): "Congrats to Ricky ponting on an amazing career. One of, if not the, best batsmen I've ever played against and fierce opponent!"
Cricket Australia chairman Wally Edwards: "Ricky is always uncompromisingly straightforward and leads from the front - he has made a decision that he believes is best for him, his family and his team. On behalf of Australian cricket, I congratulate him for his outstanding achievements as a batsman, captain and, after he stood down as captain, leader by example."
India batsman Virat Kohli (via Twitter): "Ricky Ponting - what an absolute legend. I am glad I had the honour of playing against him. Take a bow."
Australia World Cup-winner Tom Moody said: "Congratulations Punter on an astonishing career ... been a privilege to play alongside you and watch from afar. You are truly a great Australian."
Former England captain Michael Atherton: "I'm not that surprised he's decided to retire. The signs have been there for a while that his batting had slipped below his high standards. It's a difficult decision for every ageing sportsman to make."
Former Australia bowler Glenn McGrath (via Twitter): "Well done Punter on an incredible career. It would be great to see you finish with a ton. It was an honour to play alongside of you."
Former England captain Michael Vaughan (via Twitter): "The best batsman I had the privilege to play against ... Ricky Ponting... #Punter Australia cricket will not be the same without him..."
Former Australia leg-spinner Shane Warne (via Twitter): "Congrats to Ricky Ponting on an amazing career, well done Punter...Enjoy your last match in Perth buddy, was a pleasure playing with you !!!"