Australia captain Michael Clarke had no idea Ricky Ponting was planning to retire from international cricket
Australia captain Michael Clarke struggled to keep his emotions in check as he paid tribute to Ricky Ponting.
Last Updated: 30/11/12 6:27am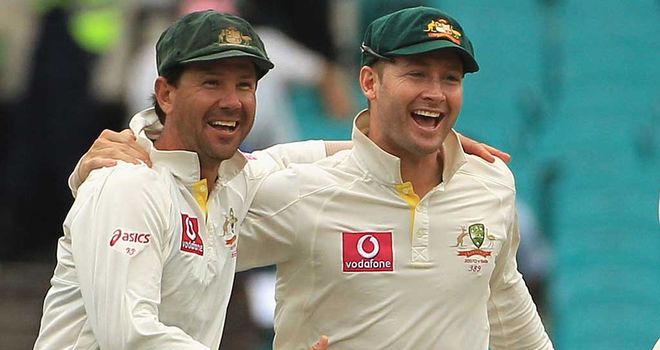 Clarke was due to speak at a scheduled press conference ahead of the third and final Test against South Africa this weekend but the event was hijacked by Ponting's announcement.
The entire Australia team was present as well as members of Ponting's family as he announced he was calling time on his illustrious career.
And after listening to his long-time mentor and friend, an ashen-faced Clarke admitted he had been surprised at Ponting's decision.
"I didn't have a feeling it was coming," said Clarke. "Ricky spoke to me after the Adelaide Test match, and made his decision over the last little while.
"The boys are obviously hurting at the moment but it will only give us more inspiration. He's been an amazing player for a long time."
Then, after a long pause, he added: "That'll do for me today."
Cricket Australia chairman Wally Edwards also offered his thanks to Ponting for his years of service to cricket.
"Ricky is always uncompromisingly straightforward and leads from the front - he has made a decision that he believes is best for him, his family and his team," said Edwards.
"On behalf of Australian cricket, I congratulate him for his outstanding achievements as a batsman, captain and, after he stood down as captain, leader by example."