Graeme Smith says South Africa will not change their plans for the final Test against Australia after Ricky Ponting announced his retirement
South Africa skipper Graeme Smith described Ricky Ponting as "the most competitive man" he has ever played against.
Last Updated: 30/11/12 6:27am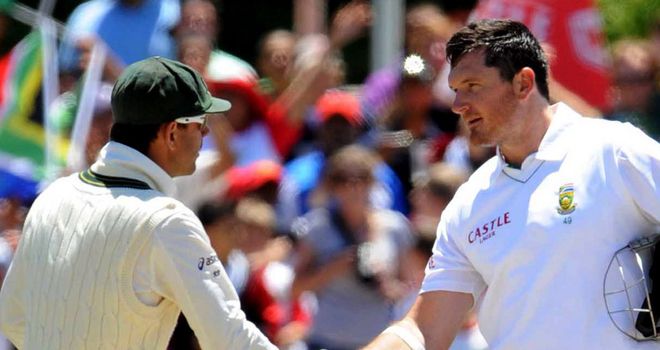 The former Australia skipper will hang up his bat after the third and final Test against South Africa, which starts at the WACA on Friday.
"Initially it was a bit of a shock," said Smith. "I've played a lot against Ricky and he's the most competitive man I've ever played against," said Smith.
"I think the way he played the game, the intensity with which he played the game, is a credit to him. He's always represented Australia with a lot of dignity and a lot of skill.
"From the South African perspective and a personal perspective, we certainly have a lot of respect for the man."
Smith was non-committal when asked if he feared Ponting's announcement would fire up Australia for the series decider in Perth, which will see the hosts replace South Africa as the No 1 Test side if they win.
"Maybe," he said. "That's not for us to worry about. Our job is to get us ready to compete. From our perspective, nothing really changes."