Australian bowling legend Shane Warne laughs off reports of an international return
Australian bowling legend Shane Warne has laughed off reports of an international comeback.
Last Updated: 05/12/12 12:39am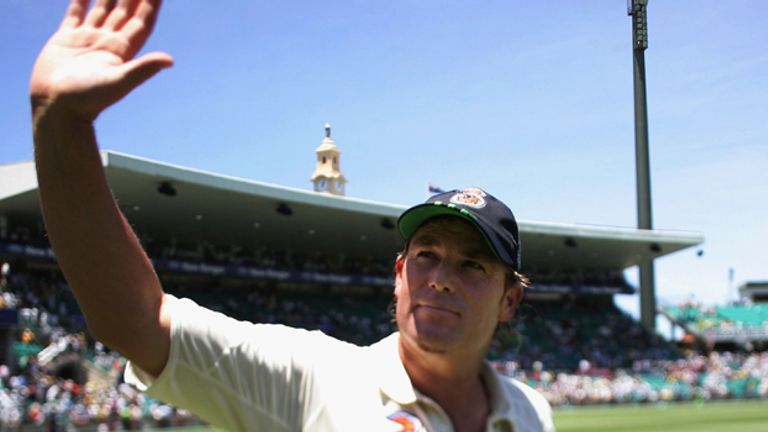 The 43-year-old leg-spinner called time on his Test career following Australia's 5-0 Ashes whitewash of England in 2007 but seemed to suggest he would return to the fold and help out skipper and friend Michael Clarke if needed.
"Clarification guys & thankyou for the kind words, but... I was asked 'could' I play not 'would' I play..yes, I could..didn't say I would," Warne later tweeted.
"It was a hypothetical question re if Michael Clarke asked me... Read my quotes 'I'm not asking Michael to ask me. Hope I didn't disappoint!
"Sorry @MClarke23 if you woke up to calls !!!! See you soon buddy...."
Warne, currently preparing for another season in Australia's Big Bash League with the Melbourne Stars, admitted it had been painful watching Australia's recent series defeat against South Africa.
Hints
"I felt like I wanted to jump off the couch and grab the ball," he said. "When you've got international bowlers bowling one or two full-tosses an over and half-volleys, I felt for Pup (Clarke), I really felt for him."
Warne's quotes to an Adelaide-based website set the world of Twitter alight earlier on Tuesday with reports of the second highest Test wicket-taker with 708 scalps was being lined up for a recall with the next Ashes series around the corner.
"If your best friend says, 'mate, I want you to seriously consider making a commitment to Australian cricket and coming back out of retirement', (to) make myself available for selection, that's a different scenario," Warne had said.
"Especially with back-to-back Ashes coming up next year, it could be a 12-month thing where you take three spinners with you and say, 'righto, work with these spinners and see how you go for 12 months.' That's a different kettle of fish.
"I'm definitely not asking for Michael Clarke to come out and say that - that's a different scenario.
"You asked me if I think I could still play international cricket if I wanted to just turn up, do my bowling and if the first Test match was in three weeks, do you think I could play? I'd have no hesitation in saying yes - and I think I'd do pretty well.
"From a purely bowling perspective, I don't think my form would be the concern, it's just the time and actually making that commitment again."
In a poll in Sydney's Daily Telegraph newspaper on Wednesday, 70% of 5,500 respondents said they felt Clarke should ask Warne to return to the test team.