Australia star James Pattinson says decision to drop him for third Test was correct
James Pattinson says the decision to axe him and three other players will make Australia stronger for the Ashes.
Last Updated: 13/03/13 8:52am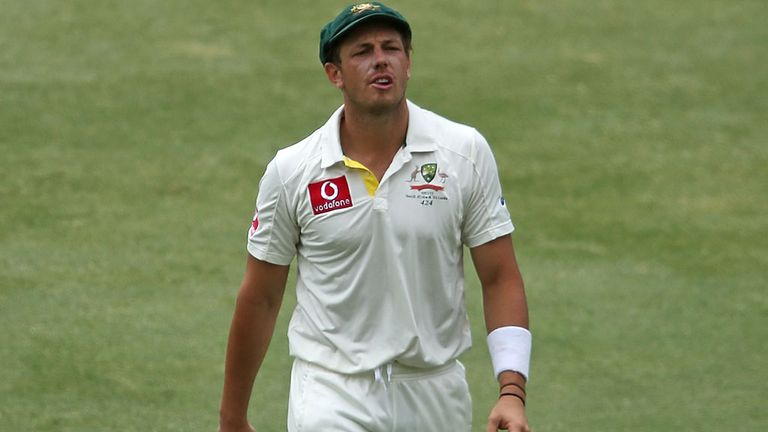 Pattinson, Shane Watson, Mitchell Johnson and Usman Khawaja were all suspended for one match after all four failed to deliver a presentation, as instructed by coach Mickey Arthur, on the way forward following defeats in the first two Tests of their current tour of India.
Watson subsequently flew home to Australia to be with his pregnant wife and said he is considering his future in the game.
But Pattinson has taken his punishment, saying: "It sends a message to everyone here that we're playing Test cricket and to be a Test cricketer you have to get 100 per cent of things right and give everything for the team.
"In the end there's no individual that comes higher than the team and I think this is a perfect example of that.
"So leading into this massive summer we've got over in England and then into the Ashes back home, this is just that stepping stone which could lead to something special in the future."
There has been criticism in some parts of the Australian media over the severity of the punishment, but Pattinson believes it was justified.
He said: "I think this is the kick in the bum to make you really realise what we've got and what we really want and that is to get to number one.
"People might say it's a harsh punishment for a small thing but I think if we look outside the actual thing we did wrong then it's other stuff as well, it builds up.
"If you really look deeply, like I did at it, you can see why it's happened and I think it's just going to make us a better team, with a better mentality and a better culture in the long run.
"If I wasn't in this position, if it was someone else, as a team member I'd be disappointed in them that they'd let the team down.
"We take responsibility for our actions and that's the big thing to do, to really be accountable for what you do."
"You give 100 per cent on the field and there's no reason why it shouldn't be off the field as well.
"On-field success, batting and bowling well, is more than half the part, but I think there's other stuff off the field as well like what's been brought up that can make the culture really strong in the team."