Nathan Lyon: Victory target of 100 will be tough for India
Nathan Lyon says India will find a victory target of 100 hard to reach on a turning Delhi pitch.
Last Updated: 24/03/13 10:31am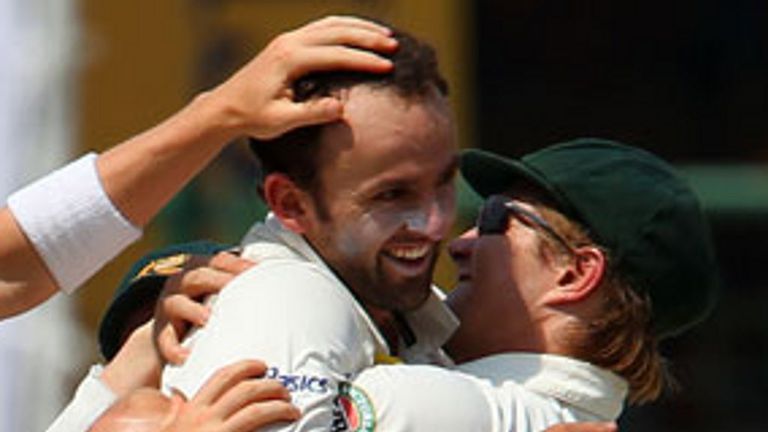 India have a slender four-run advantage with two first innings wickets left after two days, and with the Delhi pitch already offering spiteful turn, Lyon - who took 5-95 in reducing the hosts to 266-8 - says batting last will be difficult.
"We need to bat well tomorrow. Even a 100-run target would be difficult to chase on this track. We need to bat well and hopefully get a lead of 150-200 runs," he said. "It will help us to put the Indians under some pressure.
Lyon pinned the great Sachin Tendulkar in front for 32, but the off-spinner said: "All five wickets were special to me. Every wicket was special to me. Playing against the likes of Tendulkar and Virat Kohli, you always strive to get their wickets. I am quite happy with each one of them.
"I really enjoyed myself out there. I felt confident and put my team in the contest. We will try to turn things around here in Delhi."
Australia, 3-0 down in the series, badly need a morale-boost with the Ashes series in England looming, and Lyon says their performance on Saturday has put down a marker.
Tough
"Australia play hard cricket and we played very hard today. The conditions are tough out there and we did pretty well today. We pushed ourselves to the limits and that's why we played our best cricket. It was missing in the last three Tests," he said.
And Lyon had nothing but praise for Shane Watson - captain in the absence of the injured Michael Clarke - following his return to the team.
Watson was one of four players axed for the third Test in Mohali which led to the all-rounder briefly considering quitting international cricket.
"I love bowling in long spells which I did today," Lyon said. "As far as my performance is concerned, Shane told us to get in to the contest, that's one thing which worked for all of us.
"His advice helped me in getting five wickets. Also, we were bowling in partnerships, building pressure on the opposition, that's one thing which we failed to do in the last three Tests.
"Shane is a great player and a great leader. Everyone has got so much respect for him. I thought he did pretty well today as a captain, motivating all of us."