England batting coach Graham Gooch says losing the third Test and the series to New Zealand would
England batting coach Graham Gooch says losing the third Test and the series to New Zealand would be a reality check.
Last Updated: 25/03/13 9:16pm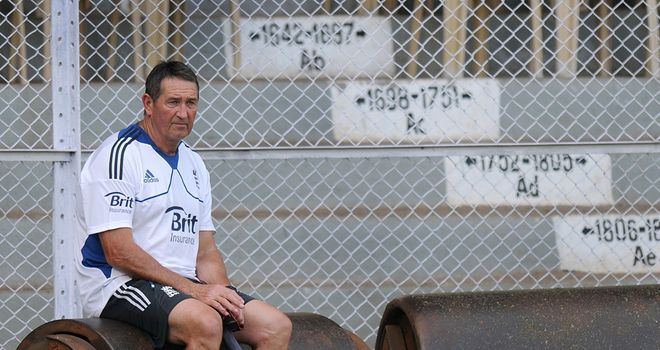 Opener Peter Fulton's second century of the match at Eden Park - his 136 three days ago was the 34-year-old's first in Test cricket - helped New Zealand to 224-6 declared.
England, in theoretical pursuit of a world-record 481 to win, then needed to bat out the four-and-a-half remaining sessions to close out a third successive stalemate and therefore a 0-0 outcome.
By stumps, they were 90-4 - minus three of their likeliest saviours at the top of the order, including captain Alastair Cook for 43.
England host their likely conquerors New Zealand next ahead of home and away series against oldest foes Australia and Gooch, who had not yet given up hope of rescuing an Auckland draw, said: "I think it's a great reality check that you can't take any team lightly.
"You can't play people on what it says in the rankings or what it says on a piece of paper. You have to play good cricket on the field, to compete, and certainly in probably two out of the three matches New Zealand have been in the ascendancy."
England's hosts are ranked eighth in the International Cricket Council table, to the tourists' second - a statistic open to revision this week, following India's 4-0 defeat of Australia.
Credit
"Our performance is not up to the standard we've produced in the past, on a consistent basis - so we'll have to look at that," Gooch added.
"I wouldn't say we've taken them lightly after the first match, where they dominated the game."
England are in obvious danger of finishing an otherwise encouraging winter, after their historic win in India, on a low.
"We didn't play well ... they've outbowled us, and they've outbatted us," Gooch said of the ongoing match. "That isn't what we wanted when we came here, but credit to them.
"We've had some great Test series in recent times - beating India 4-0 at home, the Ashes, coming back from losing the first Test in India. We've played some really good cricket; in this one, we've not produced our best.
"It's not the sort of conclusion to the winter tours we would have wanted, that's for sure.
"We wanted to finish strongly going into our summer, build on the Test cricket we played in India towards the middle and end of that series.
"Here, we've not found that form. So we've got to be disappointed. You can't be happy with the way we've played."