Australia's David Warner dropped after late-night attack on Joe Root
Australia have dropped batsman David Warner after he physically attacked England batsman Joe Root in a bar.
Last Updated: 12/06/13 10:45pm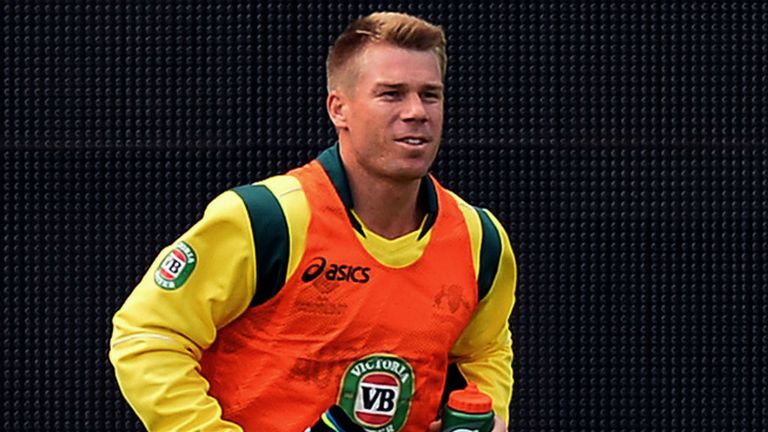 The incident, which reportedly was alcohol-related, happened at the Walkabout in Birmingham in the early hours of Sunday morning.
Sky sources understand that Root was among a group of three England players allowed to attend the bar along with six Australian players, including Warner.
The two groups stayed apart until 1.30am when Warner walked over to Root and landed a single punch on him, prompting an exchange of words before the England players left without retaliating.
Warner was stood down for today's abandoned Champions Trophy clash with New Zealand ahead of a Cricket Australia hearing and the England and Wales Cricket Board have also released a statement, clearing the unnamed player of any blame.
It read: "The England and Wales Cricket Board confirms that David Warner initiated an unprovoked physical attack on a member of the England team in a Birmingham bar following England's 48 run victory over Australia.
"Warner has admitted behaving inappropriately and has since apologised to the player involved who has accepted the apology.
Investigation
"Following a full investigation the England team management has concluded that the England player was in no way responsible for nor retaliated to the attack.
"ECB has concluded that this is a matter for Cricket Australia and have no further comment to make."
A CA statement read: "Cricket Australia advises that Australian batsman David Warner has been stood down from Australia's ICC Champions Trophy match against New Zealand tonight after being reported for breaching the CA Code of Behaviour.
"Warner has been reported for breaching Rule 6: Unbecoming Behaviour after he was allegedly involved in a physical altercation with an England player in the early hours of Sunday morning following the ICC Champions Trophy match between the teams in Birmingham.
"Team management have stood down Warner pending the outcome of the hearing, meaning he will miss Australia's match against New Zealand in Birmingham."
This is the second time in recent weeks that Warner has faced disciplinary action as he was fined 5,750 Australian dollars following a Twitter row with journalists.
A statement from Walkabout confirmed that Warner and Root were both in the bar between 1:30am and 2:30am on Sunday morning. They said neither looked to have been "drinking to excess".
The statement said a "small altercation between Warner and Root" took place, but was "dealt with very amicably and quickly by the rest of the group, and both were calmly chatting to each other again immediately afterwards."
The fact that a spokesman for Walkabout confirmed that Warner was known to staff, and had visited the establishment on consecutive nights could concern Cricket Australia prior to the Ashes, which begins on July 10 at Trent Bridge.
Two years after losing their first home Ashes series since 1987 Australia stood down four players for the tour of India - which they lost 4-0 - for failing to do their homework.
Since they arrived in England for the Champions Trophy they have lost against the hosts, captain Michael Clarke has continued to be dogged by back problems and now Warner's antics have overshadowed the team's preparations for the crucial game against New Zealand.
Root has not pressed charges and England captain Alastair Cook had no problems with the fact that his players were out at such a late time.
"You don't often get to win international games," Cook said.
"We had two days off as a team. When the schedule allows and when it's within certain parameters it's good to let your hair down.
"We are clearly disappointed that the incident has happened, but after investigating it from our side, we don't believe we have done anything wrong."
Root trained with his team-mates on Wednesday and is available for England's Champions Trophy Group B game against Sri Lanka at the Kia Oval, Cook confirmed.
"He seems fine, there is no physical injuries," Cook added. "He just wants to bury the matter.
"He is an excellent young man, he has been excellent since coming in. It was unfortunate but he wants to put it behind him, it's important that he plays tomorrow."