Australia's David Warner to learn Ashes fate after attack on Joe Root
Australia batsman David Warner is sweating over his Ashes place after his "unprovoked physical attack" on Joe Root.
Last Updated: 13/06/13 11:40am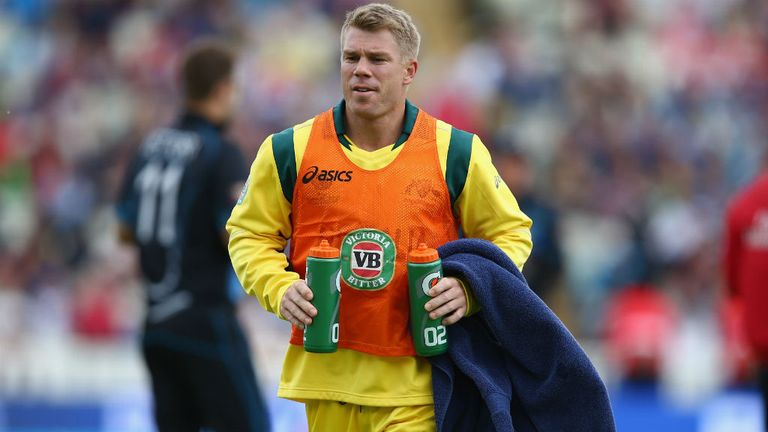 Warner was dropped from Wednesday's Champions Trophy match against New Zealand amidst reports he aimed a blow at England batsman Root in the early hours of Sunday morning.
Players from both sides had been in the Walkabout pub in Birmingham after England's 48-run win on Saturday and Warner allegedly threw a glancing blow after a row over a fancy dress wig that Root was wearing.
Warner will hear his fate at a hearing this morning after breaking Cricket Australia's code of conduct regarding 'unbecoming behaviour' and just last month he was fined £3,700 for a foul-mouthed twitter row with Australian journalists.
Disppointing
Cricket Australia have taken stern action against recent lapses of discipline and four players, including vice-captain Shane Watson, were banned from a Test against India for failing to complete a homework assignment.
But Warner appears likely to remain on the tour in some capacity as he publicly warmed-up with the side at Edgbaston and carried drinks to team-mates as 12th man.
Australia captain George Bailey unintentionally raised laughs when he said that Warner had taken news of his dropping "on the chin", but played down the incident.
"It's disappointing from my point of view, but it's a very minor incident and it's being dealt with in-house," he said.
"I really enjoy playing cricket with him (Warner). I love his enthusiasm, I love his energy, I love the way he plays. I'm looking forward to hopefully playing a lot more with him in whatever career I have."
Former Australia fast bowler Jason Gillespie believes that Warner should get a 'punishment that fits the crime' following his attack Root.
"It's unacceptable behaviour for a start," said Gillespie. "He's come out and apologised, you'd like that to be the end of it."
However, the Yorkshire first-team coach, who was part of the dominant Australia side of the 1990s and early 2000s, expects the batsman to receive an appropriate reprimand from the ACB.
"There is a code of behaviour that all players adhere to and whatever punishment fits the crime, I'm assuming that will happen with Cricket Australia," he told Sky Sports.
Based on the heavy fine handed to the left-hander recently after an outburst on Twitter, Gillespie suggested that Warner could face a hefty penalty.
"I certainly think he got done for ranting on twitter about various things with some journalists. A punch in a public pub is a pretty serious thing to do."
Some have questioned whether England's players should be allowed out into the early hours while a tournament is taking place. However England skipper Alastair Cook says no rules were broken.
"We believe that we haven't done anything wrong as players. Our conduct as international players in the England team is vitally important," he told Sky Sports.
"We are aware of the position we hold as players and how lucky we are and how responsible we are to be wearing the England shirt. It's a matter that we've taken seriously as well.
"We didn't have training for a couple of days. Clearly if it's a back-to-back game then it's a different issue. We had a couple of days off and a couple of days' training. We don't often get those positions in a tournament.
"It's very important that you do sometimes let your hair down because to celebrate wins also builds team spirit."
Root will play for England in Thursday's clash against Sri Lanka and Cook says the Yorkshire batsman is feeling no ill-effect in the wake of Saturday's altercation.
"He seems fine. With regards to physical injury he's trained very well. He just wants to get the matter buried," Cook continued.
"He's here to play cricket. He's been excellent since he's come into the England cricket team. Clearly it's unfortunate that this has happened. He wants to put behind it him. It's important that he's playing."