David Warner punished for Joe Root attack but cleared for Australia Ashes duty
David Warner has been fined and banned for attacking Joe Root but will be available for this summer's Ashes series.
Last Updated: 13/06/13 6:14pm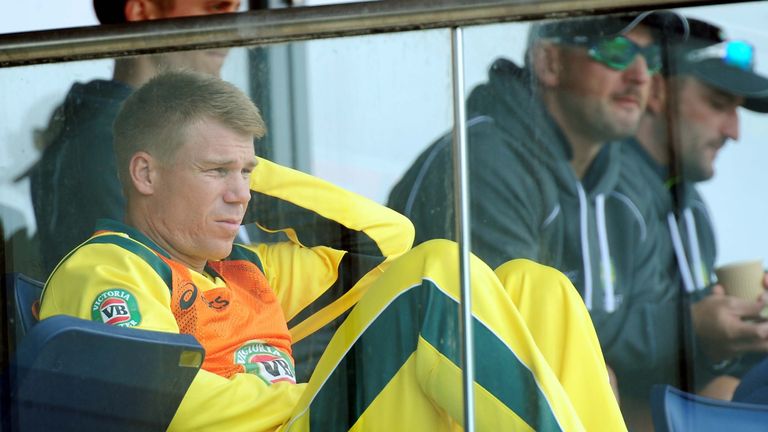 Cricket Australia bosses have fined the opener £7,000 for attacking England's Joe Root in a pub in the early hours of Sunday morning and also banned him until the beginning of the Test series.
That means Warner will miss the remainder of Australia's ICC Champions Trophy campaign and two Ashes warm-up games, but the suspension will be lifted in time for the Trent Bridge opener on July 10.
The 26-year-old attended a disciplinary hearing on Thursday and accepted he had breached Cricket Australia's Rule 6 governing 'unbecoming behaviour'.
The charge related to an incident in Birmingham's Walkabout bar hours after Australia had been beaten by England in their opening Champions Trophy match.
Warner carried out what the England and Wales Cricket board called an "unprovoked physical attack", landing a glancing blow on Root, who was one of three England players in a roped-off area of the pub along with several Australians.
The New South Wales batsman, who was last month fined £3,700 over a Twitter altercation with journalists, has since apologised to Root.
Stand-in Australia skipper George Bailey leapt to Warner's defence and played down the incident at the post-match media conference after their game with New Zealand was washed out, with his response to reporters' questions including an accidental slip of the tongue.
"It's disappointing but from my point of view it's a minor incident and it's dealt with. It's been dealt with in-house and that's it," said Bailey.
"I thought he took it on the chin and his attitude among the group today was outstanding. No pun intended, sorry about that.
"I really enjoy playing cricket with him, I love his enthusiasm, his energy around the group and I love the way he plays.
"I wish I had the talent he has. I think he's a particularly generous teammate, very giving. I'm looking forward to playing a lot of cricket with him in the future."
Players from both sides had been in the Walkabout pub after England's 48-run success at Edgbaston on Saturday, when Warner struck Root, who is understood to have been wearing a fancy dress wig at the time.
Warner had been charged with breaking Cricket Australia's code of conduct regarding 'unbecoming behaviour'. The 26-year-old was last month also fined £3,700 for a foul-mouthed tweet exchange with two Australian journalists and CA recently banned four players - including vice-captain Shane Watson - from a Test against India for failing to complete a homework assignment.
The England and Wales Cricket Board issued an official statement following the Birmingham incident which read: "The ECB confirms that David Warner initiated an unprovoked physical attack on a member of the England team in a Birmingham bar following England's 48-run victory over Australia.
"Warner has admitted behaving inappropriately and has since apologised to the player involved who has accepted the apology.
"Following a full investigation the England team management has concluded that the England player was in no way responsible for nor retaliated to the attack."
Root, who sustained no injuries and trained happily with England at The Oval yesterday, also received the full backing of captain Alastair Cook, who took no issue with a small number of players celebrating their success in a bar.
"We had two days off as a team. When the schedule allows and when it's within certain parameters it's good to let your hair down," said Cook.
"We are clearly disappointed that the incident has happened, but after investigating it from our side, we don't believe we have done anything wrong.
"It was unfortunate but he (Root) wants to put it behind him."
A statement released on behalf of Walkabout suggested none of the players had been drinking excessively and that Warner, who was said to be known to staff at the venue, paid the bar tab.