Australia cricket chief blasts David Warner's punch on Joe Root as 'despicable'
Cricket Australia chief James Sutherland has blasted David Warner as "despicable" for punching England's Joe Root.
Last Updated: 14/06/13 9:29pm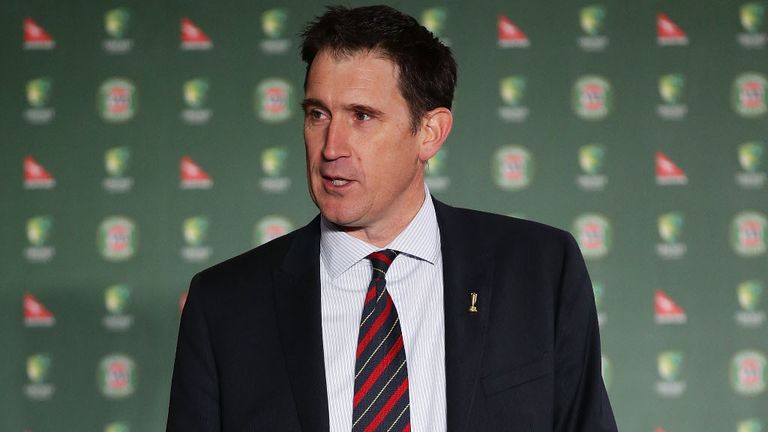 Warner has issued a public apology for punching Root in the face at the Walkabout pub in central Birmingham in the early hours of Sunday morning.
He has been banned from playing by the Australian management until the first Ashes Test and fined £7000.
Sutherland says Warner is highly unlikely to play in the first Test at Trent Bridge but is lucky to still be on the tour. And the CA chief also says questions need to be asked the rest of the team - particularly those present at the incident.
Sutherland, speaking to a news conference in Australia, said: "Warner's specific indiscretion is entirely inappropriate, there is no place for violence anywhere and I'm extremely disappointed in that, I'm extremely disappointed in him and I have told him that.
"In regard to David Warner himself I hope this is a turning point for him. I note that overnight he's made comments apologising for what he's done and expressing remorse for his actions.
"That's all well and good, it counts for a little bit but not much. What really counts is his actions going forward in the future and we're watching those very closely."
Sutherland believes Warner's chances of making the first Ashes Test are slim.
Hard
"Cricket people know it's going to be very hard for David Warner to be selected for the first Test. He can't play cricket until the first Test match starts.
"He's under no illusions to the direction his career is headed right at this moment. We have very high expectations that he will make much better decisions going forward.
"He's making some pretty ordinary decisions and getting himself into trouble and he's bringing the game and his team-mates and the team down. That's not going to be tolerated any much longer."
"David Warner has done a despicable thing but I also hold the team to account here. There were other people there with him and those that were there need to take responsibility for that, but so does the team as a whole and the team management group as well."
Australia skipper Michael Clarke insists his men are fully focused on the challenges ahead of them and he believes the Warner affair will not affect their preparations for the Ashes.
He said: "I don't think any Australian team needs something like this to bring it together before an Ashes series.
"We are very focused on this Champions Trophy right now. We want to have success in this tournament.
"We have got a game in a few days which we will be preparing for Sri Lanka and then we will be 100 per cent ready for the Ashes. There is no doubt about it."