Ashes: Australia could have best bowling attack in world cricket says David Hussey
David Hussey doesn't think Australia coach Mickey Arthur is far off in his high estimation of their Ashes attack.
Last Updated: 20/06/13 4:41pm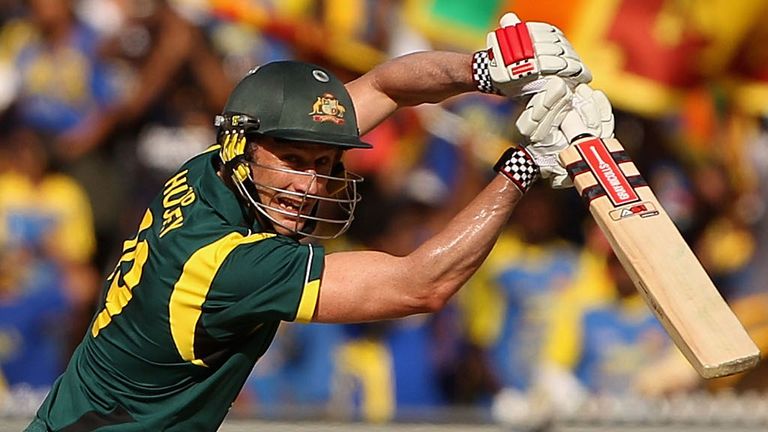 Arthur intimated, in terms of depth at least, that his bowling options are the best in the world despite only Peter Siddle currently being ranked in the top 10 of the ICC rankings.
Hussey told Sky Sports News that he believes the attack to have high levels of potential and also feels Australia are being vastly under-rated ahead of a series some pundits have suggested could end in an England whitewash.
"There's always pressure on Australia, they've been such a powerhouse for many years," Hussey said.
"For the Ashes coming up, I think the Champions Trophy wasn't a true reflection of where Australian cricket is at the moment. They've got great coaching and great players coming through.
"With our bowling attack we're going to be putting out there in the first Test at Trent Bridge, it's going to show everybody around the world that we are here to play and reclaim the Ashes.
"I sort of agree with (Mickey). I think Stuart Broad and Jimmy Anderson, and Graeme Swann of course, are world-class but I think our young bowlers coming through potentially could be the best bowling attack in the world.
"Mickey is a fantastic coach and he knows how to get players up. I think he's going to get everybody right and tickled pink ready for the first Test. Contrary to what people have been saying, I think it's going to be a lot closer series than everybody thinks."
Hussey is also not too worried about the injury trouble captain Michael Clarke has suffered with his back in recent months, fully expecting him to be reaching peak fitness in time for the first Test at Trent Bridge, which starts on 10 July.
"I don't think (Michael Clarke) is going to be too much of a concern," he added. "I read his quotes in the paper that he is always going to have ongoing back problems, but if he treats himself right, which he does because he is a professional, he'll be fine and come the first Test he'll be ready to go.
"Australia needs him to perform as he is our best batsman. I think he will drag a few younger players through with him and hopefully our batters can score competitively.
"I think you'll find the boys are here to play and ready reclaim the Ashes."
There has been talk that Hussey's brother Michael could be on standby for a late call into the squad, if they should hit trouble, but David doesn't think he would necessarily want to make the trip or be needed.
"I would have thought Mike's very happy being at home in Perth with his kids and family, enjoying the winter and watching some Aussie Rules footy, watching the Test matches from afar," he continued.
"I think the squad the Aussies have put together will show the English we are here to play. A few young batters will come through and will perform well on the big stage."
Hussey returns to domestic action for adopted home county Nottinghamshire on Friday, and he is looking forward to beginning an eighth stint in England, this time as a replacement for Australian Ashes selection Ed Cowan.
"I'm looking forward to playing against the Sussex Sharks. I love the cricket ground and the people in the dressing room here," Hussey added.
"I'm a bit biased but I think Trent Bridge is the best cricket ground in England and the people upstairs, led by Mick Newell, it's just fantastic to be a part of and I'm relishing being part of it again."