Glenn Maxwell predicting competitive T20I and ODI series
Glenn Maxwell insists there will be no Ashes hangover in the squad as Australia look to bounce back in the one-dayers.
Last Updated: 27/08/13 4:08pm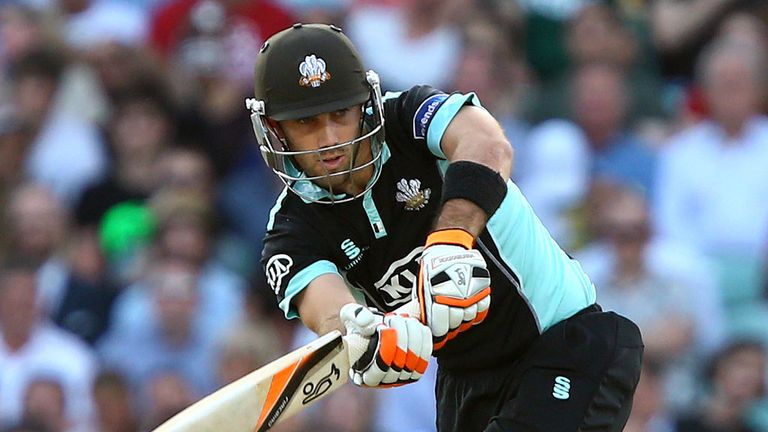 Australia are set to play two Twenty20 Internationals and five One Day Internationals against England, starting with the first T20I at Southampton on Thursday.
After losing the Ashes series 3-0, a much-changed Australia line-up will put on the coloured clothing this week and Maxwell is confident they will acquit themselves well, despite having lost their last five T20Is.
"I think we are going OK," he told Sky Sports. "I think the scoreboard probably didn't actually reflect how well we played during the Ashes series.
"The boys are all in a good mind-set, we all feel we are going quite well, the guys are in good form as far as batting."
Only seven of Australia's 18-man one-day squad played in the Ashes and Maxwel added: "I think you will see a very different Australia T20 team.
"I think the Ashes side were a little bit hurt by what happened in the five-Test series and hopefully we can turn that around very quickly.
Good fun
"It's going to be a different squad and different guys playing and obviously a few mates as well, so it should be good fun.
"We are not going to hold back - it is going to be a very tough, competitive set of games and hopefuly we can get on top of them straightaway."
Maxwell expects a run-filled encounter on Thursday after batsmen flourished at the Rose Bowl during this year's Friends Life t20.
The right-hander, who was sold for $1million at last season's Indian Premier League auction, knows the surface well after spending last year with Hampshire.
"It's a beautiful batting wicket," he said. "It's a big ground as well so it's going to be conducive to a lot of hard running in the field and it's going to be very tough to defend later on in the evening.
"I think we'll be going all guns blazing and hopefully put a big score on the board.
"It's going to be a very tough competitive few games, we're just looking to hopefully get on top of them straight away."