Mitchell Starc a major doubt for return Ashes series due to back injury
Australia paceman Mitchell Starc is a doubt for the return Ashes series due to a stress fracture in his back.
Last Updated: 09/09/13 4:34pm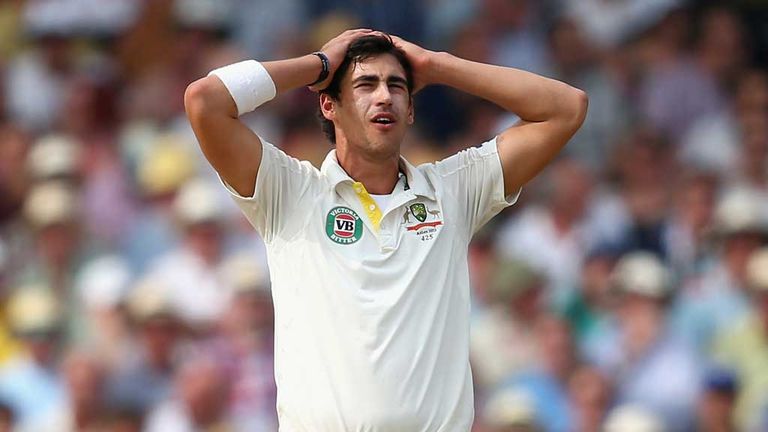 The left-arm seamer took 11 wickets in three Ashes Tests this summer before returning home for scans on his back, which revealed he has a stress fracture in his lower back.
Australia also have fitness doubts over Ryan Harris, who sustained a hamstring injury in the final Test at The Oval, while fellow pace bowlers James Pattinson and Pat Cummins are also concerns.
But Jackson Bird is expected to recover from a back problem in time to be considered for selection for the opening Test in Brisbane, which starts on November 21.
A statement from Cricket Australia's chief medical officer, Dr Justin Paoloni, read: "Mitch Starc had scans following his arrival back to Australia and they have shown an early stage low back stress fracture.
Soreness
"His management plan will be determined in the coming days but he is expected to be unavailable for a prolonged period.
"Jackson also returned home from the VB Tour of England with some lower back soreness.
"We have ruled out a major injury but will review scans in two weeks to confirm this. We expect that he will be available during The Ashes."
CA general manager team performance Pat Howard added: "While it's a disappointing result for Mitch, we know he will bounce back.
"Starc, James Pattinson and Pat Cummins are all under 24 years of age and we are certainly well aware that until fast bowlers get into their mid-20s they are more susceptible to injury.
"Historically, we've rarely seen three such promising young fast bowlers come through at the same time and all of a similar age so when they get injured of course that will be disappointing.
"We're doing our best to minimise longer-term injuries, but we are also realistic that such injuries are possible."