David Campese apologies for criticism of Australia spinner Fawad Ahmed
Former rugby union star David Campese has apologised for his outburst against Fawad Ahmed last week.
Last Updated: 11/09/13 12:00pm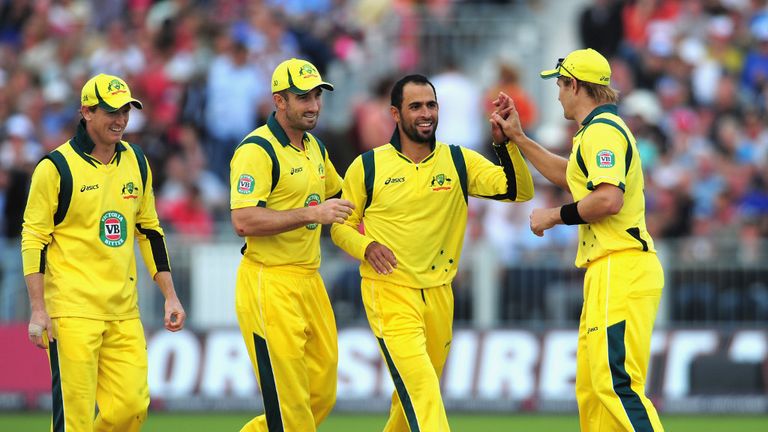 Campese suggested the Pakistan-born Australia spinner should "go home" after he was given permission to play without a sponsor's logo on his kit due to his religious beliefs.
Ahmed, granted Australian citizenship in July, made his debut for Australia in the recent Twenty20 series in England before being criticised by Wallaby great Campese on Twitter.
When a fellow Twitter user suggested that Campese's "go home" comment could be considered racist, the 50-year-old replied: "well why did he come to Aussie for in the first place. A better life? Now he is telling people what he wants.!"
Campese has now apologised for his comments, although he claims they were misconstrued, and he also plans to make an apology to Ahmed through Cricket Australia.
He wrote on Twitter: "Just like to say sorry for a comments. It is about sport and never has or will be about religion. Any who knows me can tell you that.
Sorry
"I will be ringing the ACA to say sorry and to pass my message on. Sport is about team work and team.that was my point. Sorry again."
Campese is not the only sporting figure to have caused a stir with remarks about Ahmed, with former Australia batsman Doug Walters claiming he should not have been permitted to wear kit without the logo of team sponsors VB.
He told the Sydney Daily Telegraph: "I think if he doesn't want to wear the team gear, he should not be part of the team. Maybe if he doesn't want to be paid that's OK."
That led Campese to Tweet his approval of Walters' comments, writing: "Doug Walters tells Pakistan-born Fawad Ahmed: if you don't like the VB uniform, don't play for Australia. Well said doug. Tell him to go home."
Prior to Campese's initial comments, CA chief executive James Sutherland responded to early reaction that had surfaced to Ahmed's request on social media.
Sutherland said: "CA does not condone racism in any way, shape or form. CA is fully supportive of Fawad's personal beliefs and he is a valued and popular member of the Australian cricket team and the wider cricket community."