Australia opener David Warner regrets series of off-field incidents
Australia batsman David Warner vows to start acting like a "mature adult" after his latest off-field misdemeanour.
Last Updated: 10/10/13 10:30am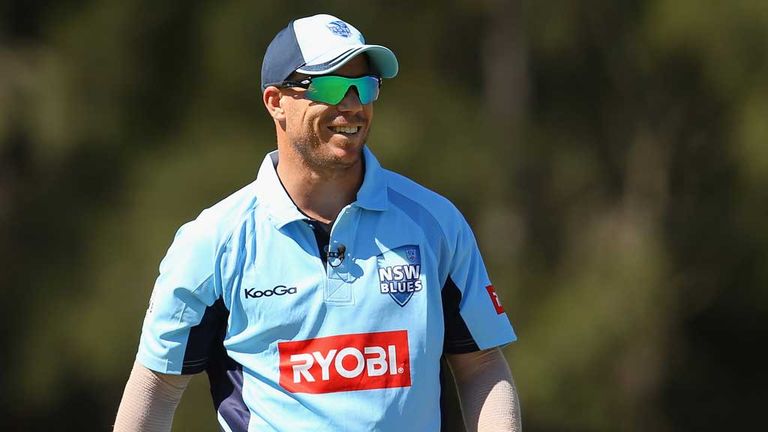 The 26-year-old was hit with a one-match suspended ban by Cricket NSW earlier this week after he went to the races rather than play for his Sydney club side Randwick Petersham at the weekend.
The aggressive opener blamed a misunderstanding in communication for his no-show after receiving his third sanction from cricket officials this year.
He was fined 5,750 Australian dollars for an angry Twitter row with a veteran Australian journalist in May before being involved in his notorious pub bust-up with England opener Joe Root in Birmingham.
Warner aimed a punch at Root which cost him a place in the Champions Trophy squad as well as Australia's two Ashes lead-up games.
"The old saying is that things come in threes and I think I've had my turn now," Warner told Sky Sports Radio.
Moving forward
"There's always going to be ups and downs in your life but it's probably been a pretty bad six months for myself, but now it's about moving forward and getting on with cricket and trying to be a mature adult.
"I've probably been a pest in the past but now it's about maturing and settling down and actually working hard at the game and actually not taking anything for granted.
"Because I know as a young guy the last probably three or four years I probably have taken things for granted and now it's about trying to be as consistent as I can and trying to be a leader around the group.
"I'm not getting any younger, the age keeps going away from you so hopefully I can leave this game in 10 years as a person to be remembered."
Warner is badly out of form with the bat and has been dropped from Australia's Twenty20 and one-day line-ups, and has posted scores of four and zero for NSW in their first two Ryobi Cup clashes.
Lecture
But a stern lecture from former Test captain Mark Taylor on Wednesday has prompted Warner to clean up his act as he bids to win a place in this winter's Ashes squad.
"I had a talk with Mark and you're basically remembered for your stats that are brought up on the screen," Warner said. "You look at your average and the games that you've played and if those two don't add up then you're really not going to be remembered.
"And the way that you act and the way that you can lead around the team by example and the role model that you are, that's how you remember the likes of Mark Taylor, Steve Waugh, Allan Border, Ricky Ponting, there's a long list there.
"Those guys are so good at what they did that they're always going to be remembered and everyone will always walk past you down the street and say, 'you know what mate, you had a great career and we always loved watching you'.
"And that's the type of person that you want to be remembered for, for what you did on the field and what you do off the field."