The Ashes: England bowler James Anderson ready for hostile welcome in Australia
England bowler James Anderson is confident they will handle the abuse of the crowd when they defend their Ashes crown.
Last Updated: 17/10/13 11:42am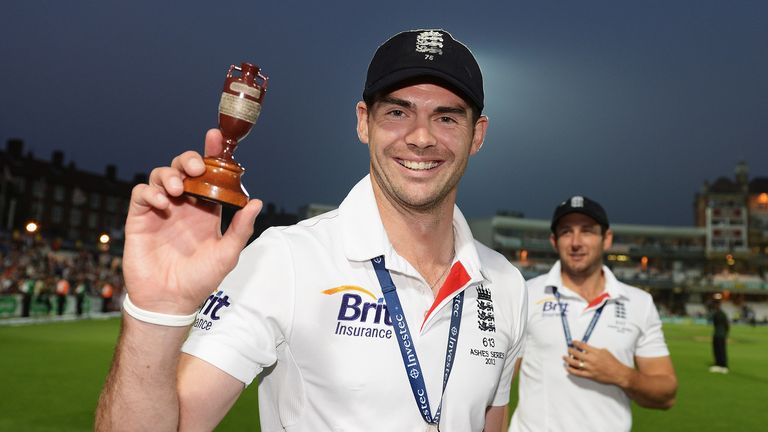 Alastair Cook's side won 3-0 during the English summer and they are now seeking their fourth successive Ashes series for the first time in 123 years.
Australia coach Darren Lehmann has already stoked up the fires by telling home fans they should send Stuart Broad home crying after he refused to walk in the opening Test at Trent Bridge.
But Anderson is convinced they have enough experience and confidence in the camp to take any abuse dished out by Australia's fans.
"Australia in general can be quite an intimidating place to play, they are very passionate and very vocal as well," said the Lancashire bowler.
"Thankfully we have got a lot of experience in the team of people who have played there before in good times and bad times, we have experience of both the media and the public over there.
"The best way to shut them up is to perform well and certain players cope with it in their own ways.
Passion
"It is important, first and foremost, that we play well and if we do that then hopefully we can silence the crowds.
"I don't think that whatever has happened will make that any worse. It will be a very partisan crowd but it always has been and always will be."
Anderson also backed Broad to deal with any abuse he receives individually and feels they must all learn to do the same on and off the field of play.
"He [Broad] got quite a lot in 2010/11 and dealt with it brilliantly until he got injured," said Anderson.
"We all get stick when we go there, some more than others, and if you can accept that and prepare yourself for it and have a plan with how to deal with it then it goes a long way to dealing with it once you're actually out there.
"Certainly in 2006 I definitely felt that and I know a number of the wives and girlfriends felt that as well when we were walking around at Christmas time and walking down the street getting abuse.
"We dealt with it better in 2010 and tried to interact more with the public and embrace their culture rather than be guarded and stay in our little bubble.
"One thing we found as well was that when we started playing well a lot of the people over there actually started appreciating how well we were playing.
"It is just a passion for the sport and we understand that and hopefully we will enjoy that again."