Nasser Hussain: Alastair Cook doesn't need to be imaginative against Australia
Nasser Hussain says Alastair Cook should not be concerned by criticism of his captaincy because he is winning matches.
Last Updated: 04/11/13 7:29pm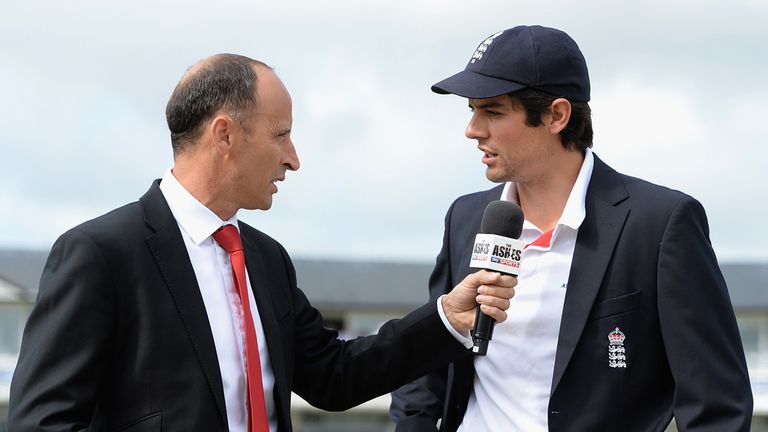 Former Australia spinner and Sky Sports commentator Shane Warne labelled Cook "boring and negative" and went on to claim he could cost England the Ashes this winter.
But Hussain believes Cook hasn't needed to be an imaginative captain because of the strength of England's bowling unit.
"What I like about Alastair Cook is the same thing I liked about Andrew Strauss," Hussain told Sky Sports News. "He doesn't stand in the middle of a pitch saying 'look at me, I'm England captain, look how I do things, I'm all fancy dan, I'm a bit of a showboater.' He just gets the job done. He wins Test matches."
Cook has won nine and lost just one of the Test matches he has skippered, leading England to a 3-0 series win over Australia this summer.
"A captain is only as good as his bowling attack," added Nasser. "You can have all the fancy plans you want but if you have Shane Warne at one end and Glenn McGrath at the other, you don't need to too many captaincy skills.
"Cook doesn't need to be overly imaginative with the bowling attack, because (James) Anderson, (Graeme) Swann and (Stuart) Broad know exactly what they are doing. The plans are pre-set by (David) saker and (Andy) Flower. They're about drying up the opposition - join up the dots and you will get wickets.
"This summer, he didn't need too much imagination against Australia. Nip the ball back into (Shane) Watson and hit him on the pads. Go at (Michael) Clarke with some short stuff and then pitch one up, get Swann at the left-handers.
"Clarke is a good captain, but captaincy is not just about setting some imaginative fields. Captaincy is all about man-management as well. Look at how Cook handled Kevin Pietersen when he became captain. You can tell by the way the England boys have reacted today, this will bring them together. They enjoy playing under Cook. The way he's led from the front has been phenomenal.
"Some of the stuff Shane has said is spot on. At times England are defensive and unimaginative, you could call that boring, but it works for them so why should they change it?"
Nasser believes Cook may need to adapt in Australia this winter, where the pitches are faster but can go flat.
"When it gets flat in Australia, Cook will need to think out of the box and be a little bit more imaginative, but he has always responded to criticism in a positive manner.
"When people doubted him as a one-day player, he went away and scored thousands of one-day runs and proved people wrong. He's the sort of guy that when challenged, goes out and proves people wrong, not in a showman way, but in his own conservative, stubborn way that wins Test matches."