Ashes: David Warner humbled by support of selectors and team-mates
David Warner has vowed to repay the faith of selectors and team-mates when the Ashes gets underway next week.
Last Updated: 12/11/13 6:02pm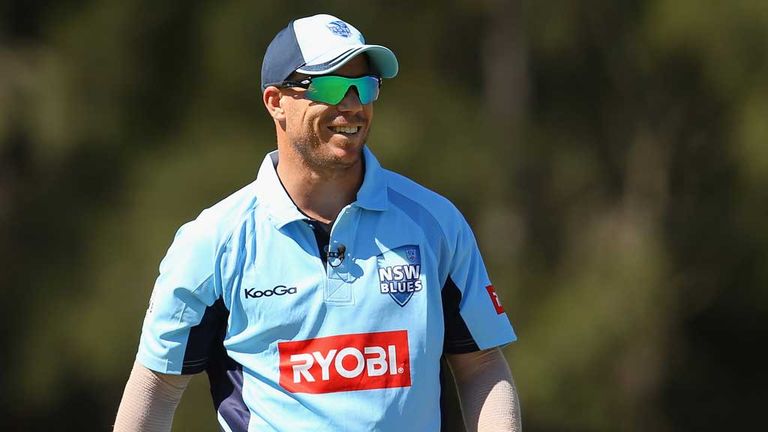 The opening batsman has made more headlines off the pitch than on it over the last 12 months as he endured several brushes with authority.
The aggressive left-hander was suspended for the first two Ashes Tests last summer after aiming a punch at England batsman Joe Root in an altercation in a Birmingham bar during the Champions Trophy.
Warner's form also dipped and he was overlooked for the one-day series in England and India, but he is back among the runs for New South Wales in Sheffield Shield cricket in recent weeks.
"I've never been a person to ever doubt myself and playing cricket, and playing my way," he said.
"To come back now and actually score a lot of runs and help New South Wales win games, it's been fantastic - and I hope I can continue that into the Ashes.
"There were a few misdemeanours in the past six to 12 months. I've addressed them now, and I'm better for it."
His improved attitude and form has gone down well with Australia Test captain Michael Clarke, who has been impressed with Warner's hard work in the off-season.
Outstanding
"His attitude has been outstanding, on and off the field," Clarke said. "I think when you look at David, for starters, you can see how fit and strong he is at the moment.
"He's worked exceptionally hard at getting himself as fit as he possibly can for this upcoming summer, and his performances are a little bit of a pay-off for the hard work he's put in.
"Once we welcomed him back into the group after the incident in the UK, he's been great around the team.
"He's gone out of his way to try and earn the respect back from his team-mates, and he's certainly done that - so it's great to see him back in the team."
When asked about the support he had received from his team-mates, Warner added. "It means a lot.
"I let them down in the Champions Trophy, and not getting selected in the first two Tests was massive for us. It put a dampener on the team and on the squad itself.
"So I've got the respect back from the guys. But I've got to keep working hard to maintain that respect from the boys - and I hope I can keep doing my job at the top of the order."