Ashes: Peter Siddle has Kevin Pietersen and Alastair Cook in his sights
Banana-fuelled Peter Siddle is out to wreck Kevin Pietersen's 100th Test in this week's Ashes opener at the Gabba.
Last Updated: 18/11/13 2:29pm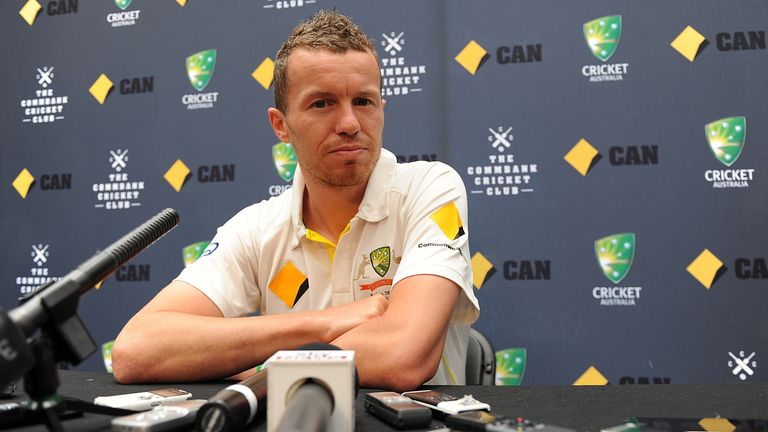 Siddle, returning to the scene of his Test hat-trick against England three years ago, has Pietersen - and opposing captain Alastair Cook - specifically in his sights.
The tireless seamer will ready himself for the task on his daily intake of 20 bananas, as part of the "plant-based" diet the strict vegetarian and his health-conscious girlfriend Anna have devised for themselves.
There are no half-measures these days for Siddle, who famously made mincemeat of England in the first innings of the 2010/11 Gabba Test before the tourists fought back to secure a draw which set them on their way to series victory.
Asked about the details of his food intake, the 28-year-old said: "It can vary from anywhere between 15 or 20 bananas a day.
"It's fruit-based, and a lot of vegetables. It keeps me healthy and strong."
He is confident it will sustain him through a tough Ashes series, and allow him to spoil England batsman Pietersen's landmark century of Test caps.
"That's the plan," said Siddle. "It'd be nice to have wrecked it before then ... we'll see how we go."
Tough
Siddle, who has dismissed Pietersen seven times in 12 Test match meetings, respects him as a world-class opponent - but appears to sense he may yet end up hastening the 33-year-old's retirement on the back of a losing Ashes.
He added: "It's always a tough contest to play against him, a challenge.
"It's good fun ... I've bowled all right against him, the last couple of times.
"(We want to) keep building that pressure, and try to make it a not very memorable last series for him - if it is his end."
Pietersen, who has been targeted by the media in Australia - including Brisbane's Courier Mail - is one of Siddle's two prize catches this winter.
"We've always targeted Cook," he added. "He's the man that opens up the batting; he's the captain and he's the one we want to put the pressure on."
All-rounder Steve Smith - who admits he will be looking to give Pietersen plenty of stick when he comes out to bat - believes Australia need to be "wary" of Chris Tremlett should he get the nod for the first Test.
"He obviously did a very good job for them the last time they were out here," said Smith. "He is definitely one we have to be wary of with his extra height and extra bounce.
"Their bowling attack is strong, all of them are experienced and we will have to bat well against them."
And speaking of his on-field battle with Pietersen - and the headlines in the Australian press - Smith added: "I am sure a few of the guys in our team that like to say a few things will be having a look at that (the Courier Mail) and perhaps saying a few things on Thursday when he comes out to bat.
"He gets into me a little bit on the field so I am sure the boys will be giving him a little bit come the first Test."
Stay up or catch up - watch England's defence of the Ashes in Australia this winter ONLY on Sky Sports.