Chris Rogers leans on David Warner for advice on facing South Africa
Chris Rogers has sought advice from opening partner David Warner on how to tackle South Africa's bowling attack.
Last Updated: 01/02/14 8:30pm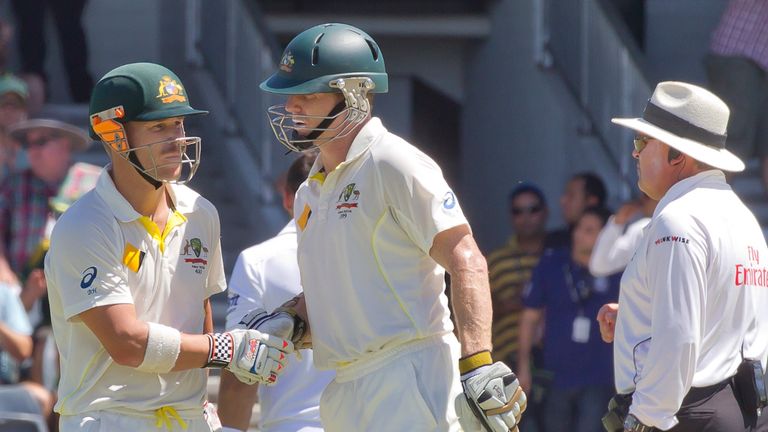 Rogers has no experience of facing the likes of Dale Steyn, Morne Morkel and Vernon Philander in the Test arena, and he has consulted his junior partner on the best approach to take against the world's top-ranked attack.
Warner scored a century against South Africa in Adelaide in the 2012/13 series in Australia, although he failed to make another significant contribution.
"We have had a chat, especially being left-handers and openers, and he has given some good feedback," said Rogers. "He has some good ideas and hopefully that will help come the first Test.
"He's not as dumb as he seems to be honest, he is actually quite good to talk to about cricket. He has a lot of good ideas and comes from a different perspective, so we have gelled quite well and that has been excellent."
Warner's aggressive style is a huge contrast to the grafting Rogers, who insisted their different approaches can be successful.
"When Davey is playing well it makes it easy for me and I can slip into the slipstream a little bit," Rogers said.
"We have our differences, but we also get on very well. It is great to see him do well, it helps the Australian side no end."
Challenge
Rogers impressed in both recent Ashes contests against England, and he is now relishing the chance to take on the Proteas on their own turf.
"It's one of those challenges you look forward too," he added. "It was a great challenge to take on Stuart Broad and James Anderson and now the South African attack is possibly another step up. If I can do well against this attack then I can be pretty proud of the achievement.
"I have seen these guys bowl for years on TV and faced a couple of them, so I think I know what they are going to do.
"It is all about adapting when you get out there and playing the bowler and the conditions, so I am looking forward to that challenge."
Watch South Africa take on Australia live on Sky - coverage of the opening Test at Centurion starts on February 12 at 8.00am on Sky Sports 1.