South Africa captain Graeme Smith thanks fans for career-long support
Retiring captain Graeme Smith thanked South Africa's fans and players for their support throughout his career.
Last Updated: 05/03/14 7:04pm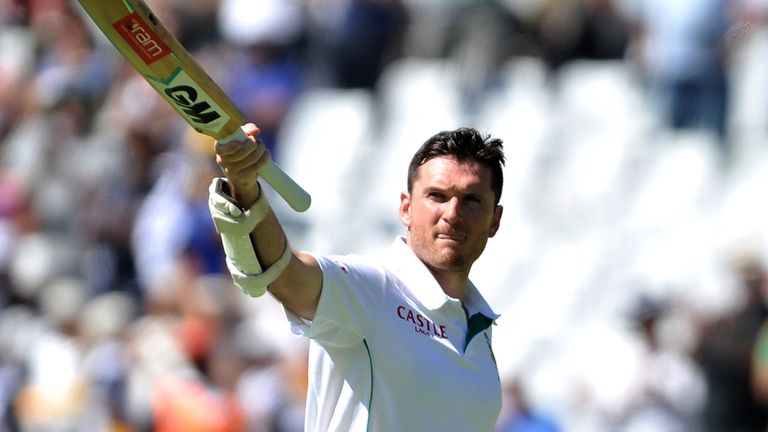 The Proteas' batsmen battled gamely on day five in Cape Town to draw the Test for their skipper, but it was not to be as the Aussies won by 245 runs thanks to Ryan Harris' last-gasp efforts as the light faded.
As such, the Proteas lost their first Test series for nearly six years, and Smith exited the international stage on the back of a defeat, but he was relieved, it seemed, to finally call time on his career.
Smith said: "The courage the guys showed was immense. We have been outplayed in this Test throughout so it was important to show the fight today. I am really proud of that, but it is important to congratulate Michael Clarke and his team.
"We have had great battles over the past years, and this one will go down too. Obviously it has been pretty emotional few days."
When asked about his decision to retire, he said: "It was pretty much on my mind at the start of the series, but for some reason kept putting it off. With my daughter in and out of the hospital (Cadence had surgery on burns on Tuesday)...
Perfect
"Ever since I moved here as an 18-year-old, Newlands has been my home so this was the perfect place to do it (retire). Since the time I started, everybody commented on my style of batting, saying I won't make it, so to end with these runs is a proud achievement.
"From a leadership perspective, having been part of so many wonderful results is amazing. When you get the job at 22, a lot of growth needs to happen. It took me a few years to figure out what was needed.
"This is the first series we have lost in almost eight (six, since 2009) years. We can be hugely proud of it. We have found ways to win.
"Lastly I want to thank the fans. To all the people who have approached me on the streets, to all that have bought tickets, to all that have stayed up late to support us, I am really thankful."
Australian captain Michael Clarke admitted he had been out of order after a heated exchange with South Africa's Vernon Philander during the tense closing stages.
Clarke and Philander were seen exchanging words as the match went into the last 15 overs, with South Africa threatening to secure an unlikely draw.
Philander was given out caught behind when a vicious bouncer from Mitchell Johnson flicked his right glove on the way through to wicketkeeper Brad Haddin.
Review
Philander sought a review and third umpire Richard Illingworth overturned umpire Aleem Dar's decision after lengthy analysis of slow motion replays showed the glove was not on the bat when the ball made contact.
Later Philander appeared to get into an arguement with Australian players and Clarke rushed in.
"Honestly, if anybody was out of line it was me, and I apologised to the opposition player that I was out of line to," Clarke said.
"There were two extremely passionate teams out there. Something was said to one of my teammates and I went to his defence.
"Let's just say he got me at a bad time, because we'd just had a decision that didn't go our way but that's the game, and as captain of your country you've got to be able to cop that on the chin."