Michael Clarke apologises to Dale Steyn after Cape Town confrontation
Captain Michael Clarke admits he was "out of line" for confronting Dale Steyn in Cape Town.
Last Updated: 06/03/14 12:06pm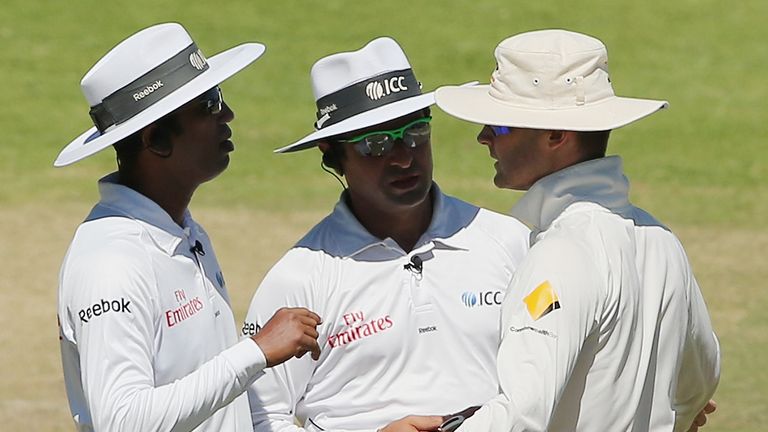 South Africa fast bowler Steyn was initially involved in an altercation with James Pattinson, and Clarke then stepped in.
Tensions were high - with an hour left of the match South Africa were holding out for what would have been an incredible rearguard draw, with Australia needing just two wickets for victory.
With less than five overs left, Ryan Harris eventually broke through, removing Steyn and Morne Morkel to win the match and the series 2-1.
"Do you know what? Honestly, if anybody was out of line it was me and I apologise to the opposition player I was out of line to," Clarke said.
"A player who I have the utmost respect for, who tries to kill me every time I bat, who batted exceptionally well - I was out of line.
"If any player on either team, it was me who was out of line. Let's just say he (Steyn) got me at a bad time. We just had a decision that didn't go our way that I would have liked to have seen go our way but that's the game.
"Certainly as captain of your country you've got to be able to cop that on the chin."
It is not the first time Clarke has been involved in some heated exchanges on the pitch. He was caught telling England tailender James Anderson to "get ready for a broken arm" as he prepared to face Australia fast bowler Mitchell Johnson in the winter Ashes series.
Mistake
"I seem to make this mistake a few times but I jumped in after him," Clarke said.
"It doesn't matter what happened, what I said was something out of character and I apologise for that. I shouldn't have said what I said."
A hot topic ahead of the match - following some controversial comments from Australia opener David Warner - and during it, was the issue of throwing the ball in on the bounce to the wicketkeeper.
Umpires Kumar Dharmasena and Aleem Dar spoke to Clarke after Australia's fielders repeatedly did so to Brad Haddin at Newlands.
The tactic is used to scuff the ball, which helps generate reverse swing.
Clarke concluded: "The umpires were up me about a few things. That was one of them. I always believed that if you're in the ring you should be throwing the ball on the full because it's a 20-metre throw. If the guys are on the boundary you can accept that some guys can't throw it that far.
"Whatever criticism we cop for that I'm more than happy to cop but I think our players understand there is a line and we know not to overstep that.
"We were asked by the umpires to make sure we were throwing the ball on the full and I think we accepted that and listened to that."