Ashes series: Stuart Broad warns England not to underestimate Australia
Stuart Broad has told his England team-mates not to underestimate Australia in the first Ashes Test at Trent Bridge.
Last Updated: 10/07/13 8:16pm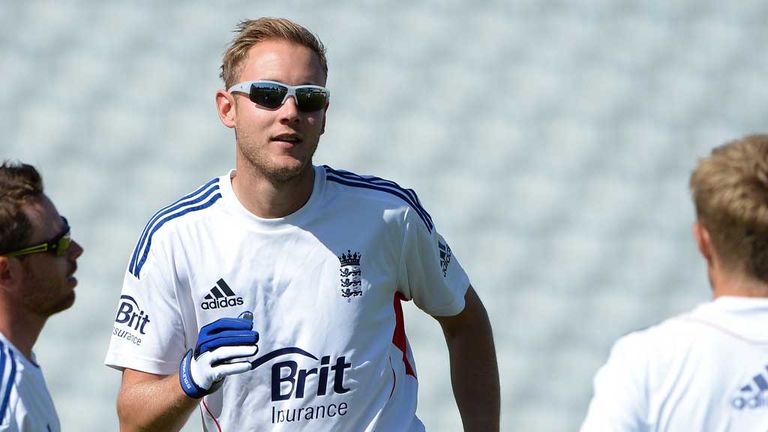 Nottinghamshire seamer Broad runs out on his home turf against England's greatest rivals hoping to help get the holders off to a flying start.
England, back-to-back winners of the famous urn, will travel down under in the winter for another Ashes contest but Broad says they will be tricky opponents in the English summer even though Darren Lehmann has recently replaced Mickey Arthur as head coach after a disastrous Champions Trophy campaign.
He told Sky Sports News: "It's hard to sum up because it's such a special thing to be involved in. I've been very fortunate to have played two, now coming into the third - the excitement of potentially playing at my home ground as a first Ashes test would be a life-long memory. But it's all about winning.
"You look back on Ashes if you lose and it's a very horrible thing. I look back on the two that we've won and they're the greatest achievements of my career so far. So yeah it's all about winning. That's the focus of this England team and why we're working so hard on our game to make sure we do that.
"Having been part of this England side for six years, for the past probably four years we've played some exceptional cricket so there's been quite a few series we've gone in as favourites and we've dealt with that well, so it's not something that's come completely out of the blue.
"It's the first time in an Ashes series we've gone in as favourites that's for sure, certainly in my lifetime but it's not something that worries us.
"We know Australia are tough competitors, I think anyone who's writing England are big favourites and will win the series etc, have either not played against Australians or forgotten what it's like to have played against Australians.
"We know we're going to be in for a battle, and to be honest what happens within the four walls of the changing room is all that really matters. As long as the 11 guys who step on the field on Wednesday are mentally and physically in the right place, which we are at the moment, that's all that matters."