Ashes: James Anderson praised England skipper Alastair Cook's resilience after day two
James Anderson praised England skipper Alastair Cook and Kevin Pietersen for digging the hosts out of a hole.
Last Updated: 11/07/13 8:49pm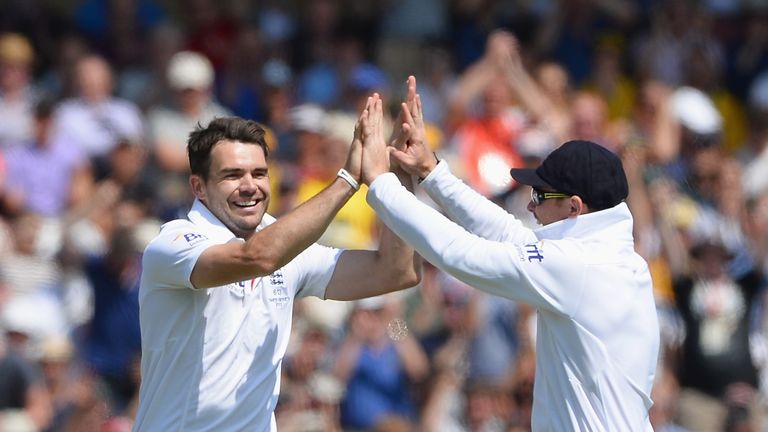 Anderson starred in the morning as England reduced Australia to 117-9 and the Lancashire quick's five-wicket haul for 85 runs kept England in after the game following the 10th wicket world record partnership between debutant No 11 Ashton Agar (98) and Phillip Hughes (81no).
Australia then made two early breakthroughs with the ball as Mitchell Starc sent back Joe Root for five runs and Jonathan Trott for a golden duck in successive balls in England's second innings.
However, captain Alastair Cook (37 not out) and Kevin Pietersen (35no) helped England recover to 80-2 at the close - and a lead of 15.
Anderson said: "Obviously it's very frustrating when we've got them 120-9. We want to finish them off quickly but all credit to the two guys who stuck in there and gave us a hard time.
"It was a couple of tricky periods for us. The last-wicket partnership and then losing the two early wickets, but the two guys at the end fought really hard to get us through the night."
Twenty-two wickets have already fallen in the match so far but Anderson pointed out that there are runs to be had on the Nottingham track once you got in.
He added: "It's pretty slow, not much seam movement or anything like that, but if you get stuck in on it, like we've seen with the guys that have got in on there, you can get some big runs," said Anderson, who expects the pitch to take spin later in the match.
Asked if it will be awkward to bat on the final day, he said: "I imagine so, but we've got to get to the last day first. We've got to bat really well tomorrow to try and get us into a position where we can put some some pressure on them.
"We need to get a decent lead and I think we saw some spin from Swanny when he bowled. I can't see it (the ball) going up and own, it might keep low but apart from that it's a pretty good deck."