England captain praises James Anderson following first Test win over Australia
Alastair Cook hailed the performance of James Anderson after he led England to a dramatic victory over Australia.
Last Updated: 14/07/13 5:11pm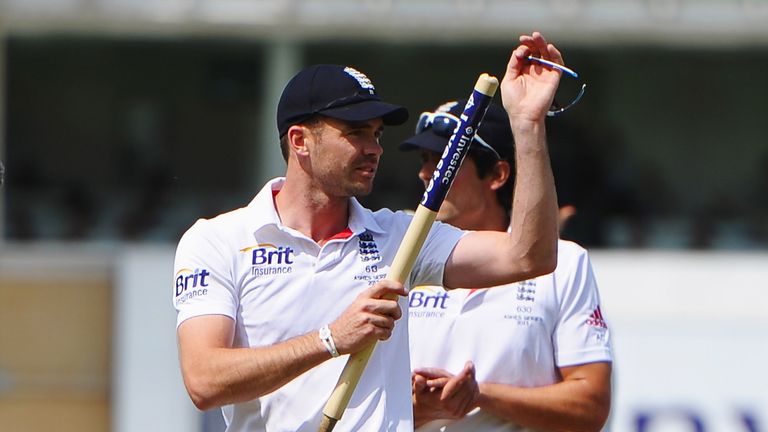 A resolute final-wicket partnership from Brad Haddin and James Pattinson had put Australia on the brink of completing an unlikely victory at Trent Bridge.
But with Australia requiring just 15 runs for the victory, Anderson sealed the win for England when he claimed his tenth wicket of the Test by prising out Haddin, who had hit a tenacious 71.
There was an anxious wait for England, who were forced to use a Decision Review before the third umpire confirmed that Haddin had nicked the ball to Matt Prior, sparking wild celebrations from England.
"Australia fought incredibly hard and a lot of credit goes to how those guys batted today but we just hung in there really well," Cook told Sky Sports. "Jimmy was outstanding. He always wants one more over; 13 was probably quite a lot in that first hour."
Asked if England are over-reliant on Anderson, Cook said: "No, not at all. He is a world-class bowler and you sometimes use him in these situations when you know there is a time frame and he had an amazing rhythm.
Jimmy's game
"But Broady and Finny bowled outstandingly well for us over a huge amount of time. They are great bowlers as well and it just happened to be Jimmy's game. Sometimes it happens like that."
Cook also praised Ian Bell's important century in England's second innings which helped set up their charge for victory.
Asked if it was the best innings he had seen Bell play, Cook said: "I do think so under that pressure. It was a real innings of character, determination and skill. I thought Australia bowled very well in that second innings.
"Obviously it was a slow wicket but they held their length very well and made it hard for us to score. But I thought the way the whole order batted, led by Ian Bell, we batted a huge amount of time to get those runs on the board.
"Credit to those guys because I thought we were under pressure in that innings. We've seen in this game what a great side Australia are and what a great contest it is going to be over the next four games."