England's Graeme Swann enjoys the dramatic finale against Australia
Graeme Swann savours the special Ashes atmosphere after England claim dramatic victory over Australia
Last Updated: 14/07/13 4:37pm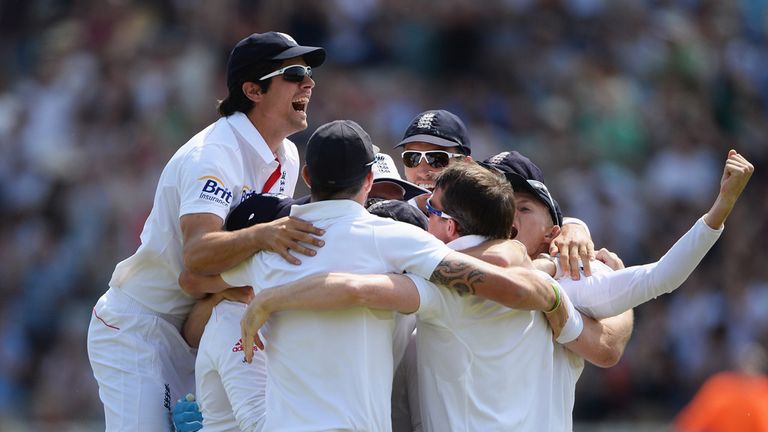 The match, which had already seen plenty of controversy and drama in the previous four days' action, built to a tense finale on the final day with Australia battling their way to the brink of victory, requiring just 15 runs to go 1-0 up in the series.
But England completed the victory when the third umpire confirmed Brad Haddin had nicked James Anderson's delivery to Matt Prior, giving Anderson his fifth wicket of the second innings and his tenth of the match.
The decision sparked exuberant celebrations from the England players and their fans at Trent Bridge and Swann relished the unique Ashes atmosphere, as well as the performance of Anderson.
"The atmosphere at the end when we came out after lunch with Land of Hope and Glory absolutely reverberating around the ground was just incredible," he told Sky Sports. "And then for Jimmy to go and do it with a 10-for in the match is incredible. On that wicket to get 10 wickets as a seam bowler is phenomenal.
"It certainly did feel different from any other Test match. Ever since ball one on day one, everything building up to this game, the hype, the spectacle, Jerusalem being played, you know you are in a bigger game than normal and it just got bigger and bigger.
Ashes fever
"The more things that happened - whether they be controversial, magnificent - it just adds to the whole Ashes fever and it is great to be a part of."
Of the dramatic finale, Swann said: "I was not counting my chickens because of what had happened with the DRS in the game because I could not see the little nick on the big screen, everyone else could apparently but I couldn't.
"Matty Prior knew. He said straight away, 'he's hit it and it's going to be out'. And even after we had it reviewed we were looking at Brad Haddin - he had that glint in his eye. I think he knew he had hit it but the Aussies don't walk.
"Brad Haddin played incredibly well today in shepherding the tail and so he probably deserved a bit better than to get out himself at the end but what a game."