Ashes: Alastair Cook delighted after England win at Lord's to take 2-0 lead in series
England captain Alastair Cook was delighted to wrap up a comprehensive victory over Australia in the second Test.
Last Updated: 22/07/13 3:05pm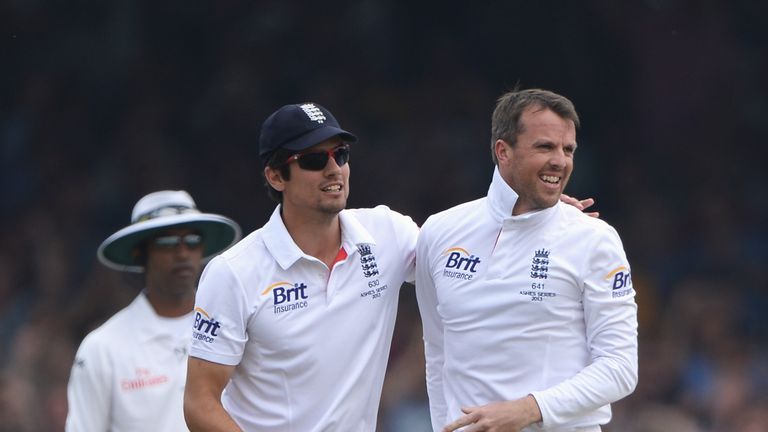 Graeme Swann broke Australia's last stand of resistance by trapping James Pattinson lbw in the final scheduled over of the day.
Swann's fourth wicket of the innings, and ninth of the match, saw England dismiss Australia for 235 in their second innings to secure a massive 347-run victory.
Cook admitted his side were glad to seal the win, which sees them take a 2-0 lead in the series, with just three balls of the day remaining and insisted it was not as straight forward as the result appeared.
"A few of the boys were keen, all 11 of us I think," said Cook. "It was obviously a bit of hard work. We thought we would create the chances and we just about got there in the end."
Cook pointed to the crucial century knocks of Ian Bell in the first innings and Joe Root in the second innings, along with the bowling performance of Swann, as evidence his side had had to earn the victory rather than being handed it by Australia.
"We've played some pretty good cricket," he said. "We have also had to scrap very hard throughout this game. We were 30-3 in both innings. People have had to stand up with the bat with Belly's 100 in the first innings and Rooty's in the second innings.
"We put them under pressure at the start of their innings which was fantastic and obviously our bowlers have done a great job. When it is dry we have a world-class spinner in Swanny and the lads know how to reverse swing a ball so it has worked well for us in this game. We are a side that is pretty comfortable in any English conditions."
Root was named man of the match for his 180 in England's second innings, as well as taking the important wickets of Michael Clarke and Usman Khawaja in Australia's second innings, and Cook was delighted with the young Yorkshireman's performance.
Of Root's century, Cook said: "It was a great one. It was under pressure in that second innings. Obviously he has had a bit of success at number five. It is slightly different at the top of the order but we know how good a player he is. He still has a huge amount of work to do but he is the right character. It was a fantastic knock."
Kevin Pietersen missed the day's action after he was ruled out of the rest of the Test with a calf strain on Saturday night. But Cook remains optimistic he will return for the next Test at Old Trafford, which starts on August 1.
Cook said: "It is just a strain; thankfully it is not a tear. That obviously reduces it quite a lot. We will do what we always do, work hard on him and hopefully he will be fit for Old Trafford."