Ashes: Nottinghamshire director of cricket Mick Newell full of praise for James Taylor
Mick Newell told Sky Sports batsman James Taylor has improved since making his Test debut for England last summer.
Last Updated: 01/08/13 10:08am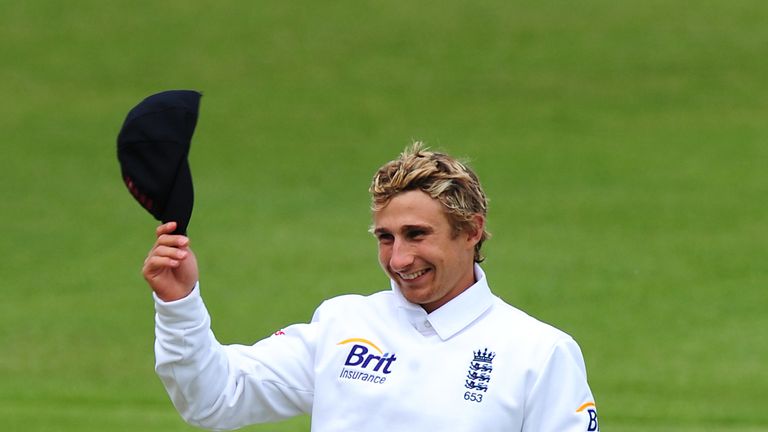 The diminutive batsman seems to be in pole position to be drafted into England's middle order if Kevin Pietersen doesn't recover from a calf strain in time to feature at Old Trafford next week.
Taylor will get the chance to come up against the Australians before then, however, after his employers agreed to a request from the England and Wales Cricket Board to allow the 23-year-old to play for Sussex in a three-day tour match at Hove.
"He's certainly been in good form for us all season in all forms of the game," Newell told Sky Sports.
"The message from England was 'go away, score more runs in county cricket and we will pick you again'. James has done that and he deserves this opportunity.
"Like a lot of good batsmen he loves batting. He's got stickability; he will see off good spells of bowling and he seizes on the opportunities to score now probably better than he did a year ago.
"I think he will look to score more quickly than he did last year when he was picked, particularly off the back foot. He's a good cutter and a good puller of the ball and also a good player of spin.
"He's got all the attributes, but the most important thing is he wants to be out in the middle for four, five, six hours. That's the only way you make big scores."
The decision by Nottinghamshire to allow Taylor - who featured in two Tests against South Africa last summer - to play for another county comes despite them facing pivotal fixtures in the Friends Life t20 competition.
However Newell is happy to put country first, with the former Leicestershire right-hander needing the best possible preparation ahead of an international recall.
Slightly surprising
"It was slightly surprising I suppose," he said of the request from the ECB. "But I think if James is going to play in the Test match next week then we owe it to him to give him the best possible preparation for that match.
"Certainly playing for Sussex in a three-day encounter is better preparation than playing two Twenty20 matches for us.
"We've put James' interests first, and put England's above ours, and allowed this to happen."
Taylor marked his Test debut by making 34 in a 147-run partnership with Pietersen against the Proteas at Headingley almost a year ago, yet two low scores in the following match at Lord's saw him miss out on a place in the squad to tour India that winter.
"Initially there was a period of feeling down," Newell explained.
"He didn't get picked for the India tour which would have been a natural expectation - if you've played in the last Test of the summer then you probably expect to go on the winter tour.
"There was a period there in October, November when he was probably a little bit down, but he's a determined young man. He's 22 going on 32 I always feel in terms of his determination and preparation.
"He knew what the message was about going away, working hard and scoring more runs. England have been true to their word and he's done exactly what was asked of him."