Third Ashes Test: Umpires defend decision to take players off for bad light
Old Trafford umpires Marais Erasmus and Tony Hill said they had no choice but to take the players off for bad light.
Last Updated: 05/08/13 5:18pm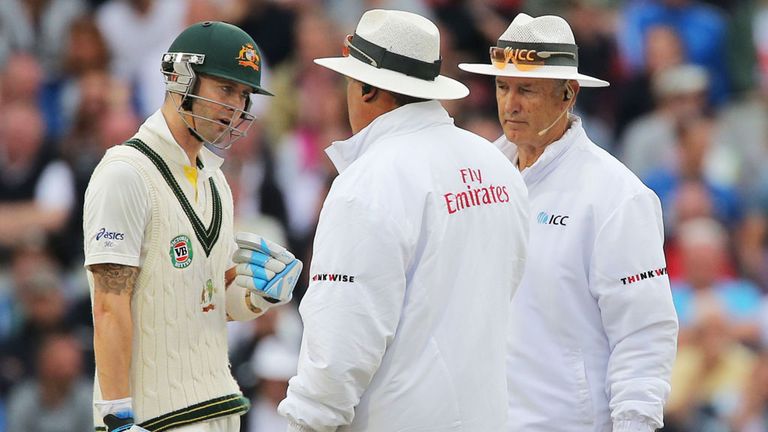 With the match delicately poised and Australia batting aggressively in a bid to declare before the end of the day, play was curtailed for the day at 4.46pm by the decision.
Australia captain Michael Clarke was furious - his team were 171-7, a lead of 331 - as the tourists have to win the match to keep the series alive.
Although the floodlights were on, the umpires decided conditions were too dangerous to continue when it appeared that Stuart Broad was about to return to the attack.
The umpires say they told England captain Alastair Cook that they could continue to play if he used spinners, but he declined.
"We try and play as long as we can," Hill said. "We were able to stay out a heck of a lot longer under the lights - but when we started losing it (tracking the ball) completely from square leg, we gave the skipper (Cook) the option to use spin, and he didn't want to do that,"
The decision to come off used to be down the batsmen, but the regulations changed in 2010 - it is now solely down to the umpires.
Change
"The playing conditions changed a few years ago so it's now our decision. We try and communicate and let everybody know," said Erasmus.
"For a while there England's fielders were asking about the light and the possibility when they bat. It was fine by then but it kept dropping, dropping, dropping.
"Eventually we told the captain (Cook) to bowl spin which eventually he decided not to. That pushed our hand because it's a safety issue."
Clarke, 30no when play was halted, had a heated conversation with the umpires in the middle as the England players returned to the pavilion.
"He asked us 'why suddenly?'" Erasmus said. "We actually communicated with each other (Erasmus to Hill) in that particular over so it wasn't a sudden decision.
"We were monitoring the light all the time - it's not just something that we just suddenly decided."