Third Ashes Test: David Warner says Australia desperate for crack at England
David Warner is hoping Australia will have a crack at bowling England out on the final day of the third Ashes Test.
Last Updated: 05/08/13 5:19pm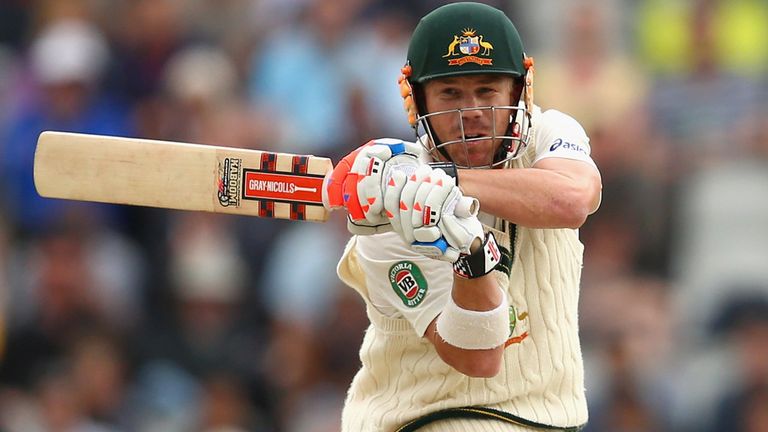 The batsman admits he does not know if Australia will declare overnight with a lead of 331, or bat on in the morning.
But with bad weather forecast for Monday, the odds are that England will earn the draw they need to retain the Ashes.
Warner, promoted to open in order to score quick runs for Australia, told Sky Sports: "We'd have liked to put more runs on the board and then have a crack tonight but at some stage tomorrow we'll do that."
Australia skipper Michael Clarke was furious when the umpires brought play to an end at 4.46pm because of bad light. The umpires later confirmed that had England used spinners play could have continued, but with England captain Alastair Cook in no mood to give the Australians a sniff of victory, he declined.
"That's what happens these days, the umpires make the (bad light) decision and (Alastair Cook) clearly didn't want to bowl the spinners any more," Warner said.
"I think we would've kept batting, Michael (Clarke, captain) was out there so he would decide what to do."
Keep smiling
The most popular moment of the day came when Warner was caught for 41 by his Champions Trophy sparring partner Joe Root.
Warner's jab at the young England batsman in a Birmingham nightspot has made him the pantomime villain at Old Trafford, and he admits he enjoys playing the part.
"I'm copping a little bit on the (boundary) fence but you've just got to keep smiling, enjoy the crowd and embrace it," he said.
"The crowd have been very vocal - they've been a bit quiet in the morning though, probably hung over from the day before."