The Ashes: Alastair Cook keen to ensure England win series rather than just retain urn
Alastair Cook set his sights on winning the Ashes outright after the urn was retained with the third Test draw.
Last Updated: 06/08/13 9:26am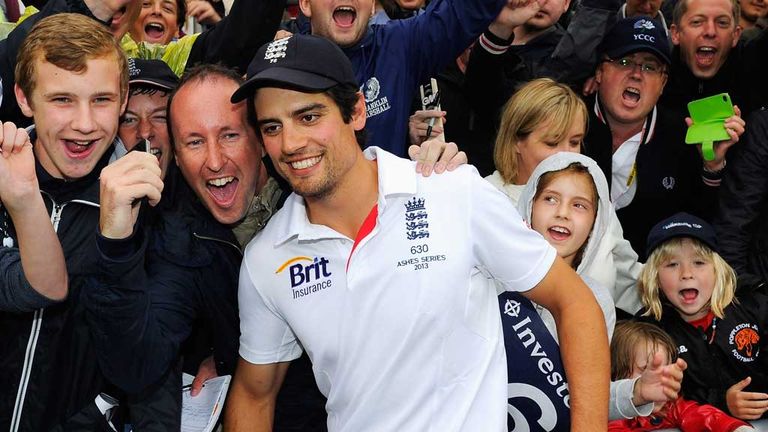 Rain ruined the final day in Manchester, with Australia having put England on the rack during the morning session by taking three early wickets.
But a smiling Cook admitted the was a good deal of jubilation in the home dressing room despite the weather having played a big part in ensuring their first set of celebrations could begin.
"It's obviously a great feeling, but a slightly strange feeling today. It's been a bit of a strange day, but great for the lads to retain the Ashes after three games," Cook said.
"We played some pretty good cricket in the first two games, we've been behind the eight-ball quite a lot of this game but we've fought hard. Today we had a little bit of luck with the weather, and obviously it's nice to retain the Ashes.
"I think it's been a really good series. At Lord's we played really well, Trent Bridge was a nail-biting game and we were glad to get the right side of that result.
"In this game, it was probably quite an important toss to win but fair play to Australia how well they played. They put us under pressure, getting 500 and plenty in their first innings, but we responded pretty well with the bat with the wicket getting slightly harder to bat on.
"We fought hard and we knew that if we could bat for a long period in that first innings it would take pressure off for the second.
Celebrations
"Obviously the weather hasn't been ideal today but you can't predict that. It hasn't quite got the atmosphere because of that but the feeling in the dressing room is a very pleasant one.
"We set out here to try and keep the Ashes and now we want to try and win them.
"After three Test matches I would have snapped your hand off to be in this position especially with what happened in this game. We'll obviously enjoy tonight and then we've got to come back for Durham (starting Friday) and work really hard there.
"They bowled really well here. It was a good Test wicket, good to start with, good for the first three days and I think as today showed there was a bit in there as the wicket deteriorated - that's what we want, wickets like that and I think it was a fantastic Test wicket.
"Kevin Pietersen batted really well, it was a fantastic knock, that's why he's a world-class player making knocks like that. It was a perfectly-timed one as well in the situation."
On having to return to action in only three days' time, Cook added: "It is slightly stressful at times, at certain points in the game. You try to relax in the evenings but it's certainly a challenge and I am sure Michael (Clarke) would say the same sort of thing.
"You are always put under pressure as a captain and I think it's heightened a little being the Ashes.
"The lads, with a four-man attack, always have to put a lot of effort in and spending a lot of time in the field in the first innings would have taken it out of them, but we'll recover well. We didn't play as well as we would have liked to in this match, and that's credit to Australia, but we'll come back and hopefully play better in Durham."