Fourth Ashes Test: Graham Onions slams 'outrageous' Hot Spot allegations
Graham Onions has angrily refuted claims that players have been using tape on their bats in a bid to beat Hot Spot.
Last Updated: 07/08/13 10:46pm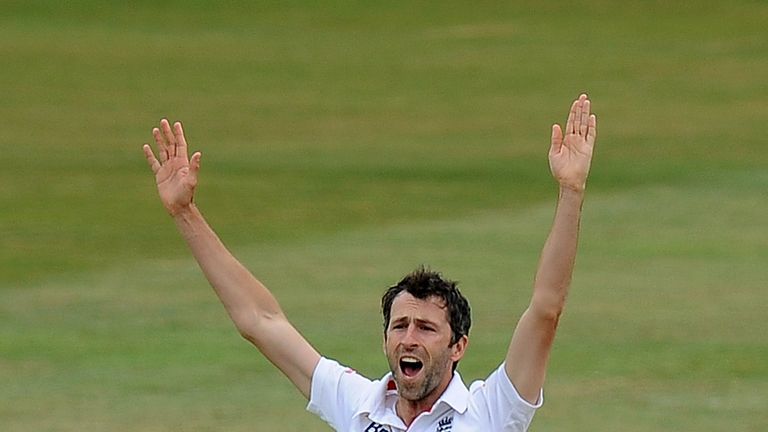 A report in Australia's Sydney Morning Herald suggested both England and Australia are under investigation by the International Cricket Council following several controversial DRS decisions during the ongoing Ashes series.
Onions - who has been recalled to the squad for the fourth Test at his home ground of Durham after not being selected so far in this series - was emphatic in his defence of the England players.
He told Sky Sports: "It was the the first I heard when I walked into the changing room today. It seems completely blown out of proportion, it just doesn't seem right.
"I know that England players would never put anything on their bats. Tape has been used to mend cracks or people have favourite bats and use it to make them last as long as possible.
"It sounds completely silly to even think that people are putting things on their bats to try to help them to cover up decisions.
"From our point of view as players we don't put anything on our bats and we play the game as fair as we can, as I am sure the Australians do as well."
The seam bowler is also angry that the row has affected his personal satisfacton at being called into the squad after being left out of the 13 for Old Trafford.
He added: "It is a huge accusation and it is outrageous really. Obviously we are talking about it in the changing room and from my point of view the excitement of getting called up and coming into the squad, seeing the lads again after missing out at Old Trafford, to have these discussions it seems a little bit unfair, a little bit wrong really."
The latest row comes after complaints from both camps over the umpires' interpretation of the DRS.
Geoff Allardice, the ICC's director of operations, has been sent to meet with the teams and their coaches ahead of Friday's fourth Test at Durham.
The Durham paceman was far happier talking about his excitement at the prospect of a return to the England team on home soil.
Onions' last Test appearance came against West Indies over a year ago. "I'm champing at the bit and I'm excited," he said.
Delighted
"I feel ready, I'm delighted to be here, delighted to be part of the squad. If you're in the squad then you're up for selection, you've got a chance of playing.
"I was disappointed not to be involved in the squad for the last game, but to be here at Durham, where I've played all of my cricket and to be from the north east, (I'm going) to be very proud to put that England shirt on.
"I feel as though I've played well for Durham this year and if the chance did come along I'll be ready."
Gateshead-born Onions, who has made nine Test appearances for England, added: "I still feel a bit nervous, but they are excited nerves really.
"The prospect of a playing a Test match cricket again, and playing in front of your home crowd, it's gonna be fantastic if I was given the opportunity to play."
Onions appreciates he faces a tough task to force his way into the side, especially with fellow fast bowler Chris Tremlett also included in the squad, but he hopes to get the opportunity.
On the prospect of England possibly rotating their bowling attack having already secured the Ashes, Onions said: "As a cricketer you want to play every game, being realistic you're probably not going to be able to if you play all three formats.
"For someone like myself where the red ball is my forte I want to try and force my way into the side.
"It's not easy, we've got a great crop of fast bowlers. Obviously with Tremlett and some of the young lads coming through as well, it's a privilege and an honour to be part of the squad."