Fourth Ashes Test: Stuart Broad thinks England can hit back with the new ball on Sunday
Stuart Broad says England's use of the new ball on Sunday will have a major impact on the result of the fourth Test.
Last Updated: 11/08/13 10:48am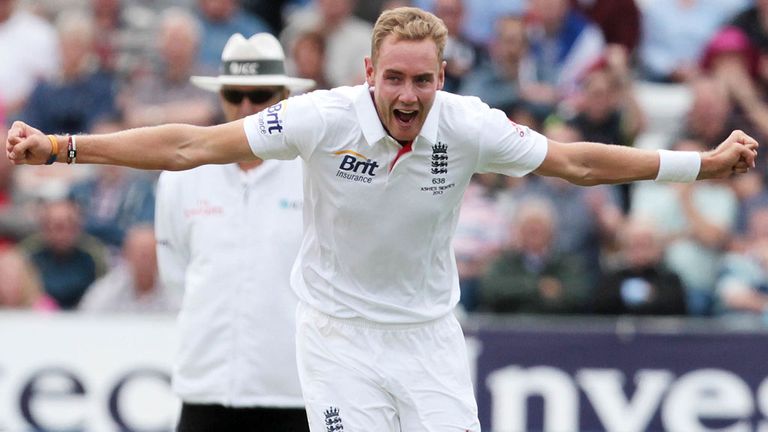 The match is finely poised after two days, Australia having reached 222-5 in replay to England's 238, thanks to a superb 101 not out from Chris Rogers.
But Broad, who has taken 4-48 and had Australia reeling on 49-3 at one point, thinks England could do some damage when they take the second new ball, which they can do after 80 overs of the innings have been bowled.
Reflecting on day two, Broad said: "It was a really good day's cricket.
"Credit has to go to 'Buck' Rogers for playing the way he did. He was gritty and he played the lines so, if it seamed, he played and missed, and he took his runs when they were available.
"It was a well put-together hundred and he's put his team in a decent position.
"But, from an England viewpoint, we know with the new ball around the corner that, if we get early wickets and are still batting tomorrow night, we'll be in a strong position.
Movement expected
"It's quite a new-ball wicket. Once the ball got to 50 overs old it seemed to stop seaming around and then it got slower and slower. The new ball will do things, for sure.
"With it coming early tomorrow, with our bowlers fresher, I think that's a good thing for us.
"Jimmy (James Anderson) and I have to take responsibility. We've seen the new ball does seam around on this wicket, so you've got to get the ball in the right area. I think the first wicket is the big one.
"There are two dangerous players in the middle (Rogers and Brad Haddin) and we only lead by 20. We won't be scared about giving a small lead but we don't want it being a decent lead.
"We're pretty good at batting in the third innings. When we have a target in our minds, we're a pretty good unit. We'll back our batters to go out and fight."
The Decision Review System provided a talking point once again when Rogers was given out caught behind off Broad when he had made just 20.
On review, it was seen that the ball had hit him on the pad rather than the bat and he was not out LBW either because Hawk Eye showed the ball only clipping the bails, meaning it was 'umpire's call'.
Broad said: "I've never had one given out, reviewed, out, out, out (on the three review elements for the LBW), but given not out! We went through all the emotions.
"I think the rules are changing to make a bit more sense in October."