Fourth Ashes Test: Ian Bell says England need to continue batting well on Monday
Ian Bell says he and his team mates are focused on building a big lead in the fourth Ashes Test on Monday in Durham.
Last Updated: 12/08/13 6:59am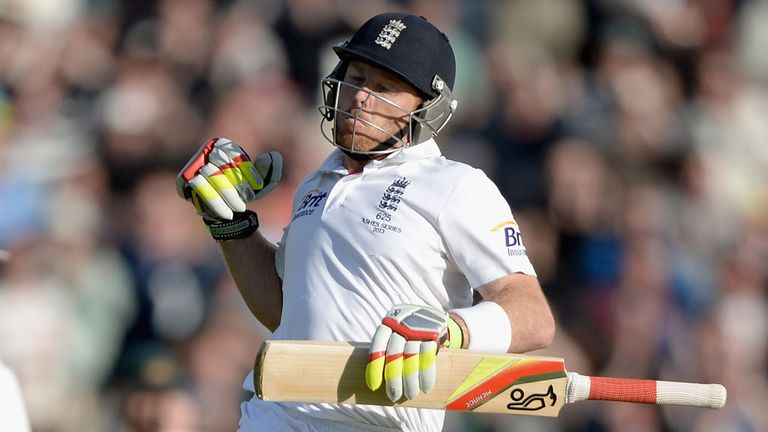 Bell was once again the star of the show on day three, making his third century of the series to lead England from a parlous position to a relatively healthy lead of 202.
England trailed by 32 on first innings and were 49-3 in their second knock when Bell arrived at the crease.
And, with the help of Kevin Pietersen (44) and Jonny Bairstow (28), the right-hander steered the hosts to a much healthier 234-5, Bell finishing on 105 not out.
Asked about his rich vein of form, Bell said: "It's nice. Obviously, it was a situation where we needed someone to get out there and get some runs.
Lead
"Kev played very well, and Jonny as well, so it was nice to dig in, and we have to try and get as big a lead as we can.
"It's nice to score tough runs. I haven't tried to do anything different than I was doing against New Zealand but something has clicked and it's good to be able to get in and go big. I'll just try and do the same tomorrow.
"If we can get ourselves closer to a 300-run lead that's the important thing. The individual stuff is irrelevant really.
"I've had to work really hard in this series and I have a lot of respect for this Australian bowling attack."
Bell fended a delivery just over a fielder when he was on 97 and added: "Here at Durham there are periods of play where it will do nothing, but then the odd ball will.
"I don't know if the pitch will deteriorate. We'll try to get as many as we can first, and there usually is deterioration on days four and five.
"We need to bowl well and hopefully we'll get 10 chances."