Ashes: Brad Haddin insists Australia can pull off a 'deserved' win at the Oval
Australia wicketkeeper Brad Haddin is looking for improvement to pull off victory in the final Ashes Test at the Oval.
Last Updated: 19/08/13 5:12pm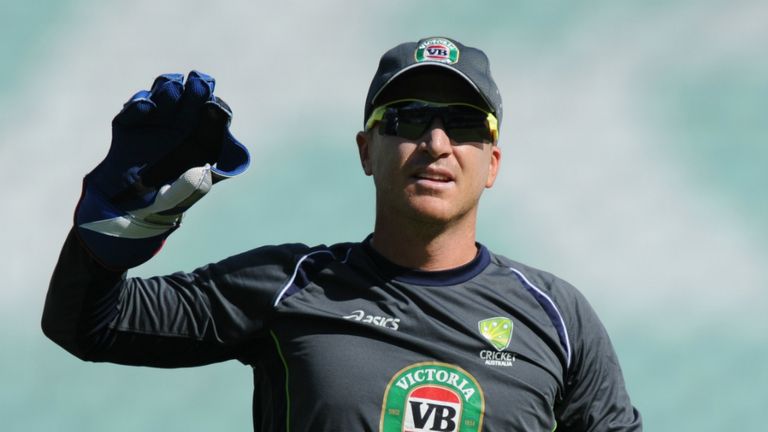 England have already won the series and hold a 3-0 lead going into the final match on Wednesday.
Despite it being a dead rubber, stakes are high for many of Australia's players - including vice-captain Haddin - as the selectors are likely to make changes for the return series in Australia this winter.
Haddin told Sky Sports News: "There is a lot of belief in the changing room that we can win this last Test match.
"We've been in positions over the series to win Test matches but we haven't been good enough in the big moments.
"England deserve to be where they are, 3-0 up, so it's up to us to see if we can build on the good things we've done and put it all together over five days and not just in patches."
Asked if the result at the Oval will have a bearing when the sides meet again later in the year, Haddin replied: "I don't think it will but if we win I'll say it can. Personally I don't think it will make much difference in the return series.
"England have won this series and have played the better cricket and deserve to be in the position they are. I don't think momentum or anything will make a difference.
"I only know that in our changing room we'd like to get a win. We think we've played good enough cricket on this tour to deserve a win in a Test match."
Strongest team
Haddin dismissed the idea Australia would leave out some of their key players at The Oval with the series already gone.
"I never think there's any merit in resting players - not for a Test match," he said.
"You've got to pick the best XI. There's no point talking about resting a guy, or giving a guy a break when we're not winning."
Haddin spent several months out of the team when Matthew Wade was preferred behind the stumps, before returning in time for this series.
Other Australians, such as opener Chris Rogers, have had to wait many years for their opportunity at Test level.
"I don't think rest should ever come into consideration," added Haddin. "You're playing for Australia - guys wait years and years to get this crack.
"Ask Chris Rogers if he wants to be rested."
Australia are optimistic that Shane Watson will be able to play a full part with bat and ball, despite the groin injury he suffered in the fourth Test.