The Oval build-up
England are looking to make Ashes history at The Oval. Read our comprehensive build-up to the fifth Test.
Last Updated: 21/08/13 6:57pm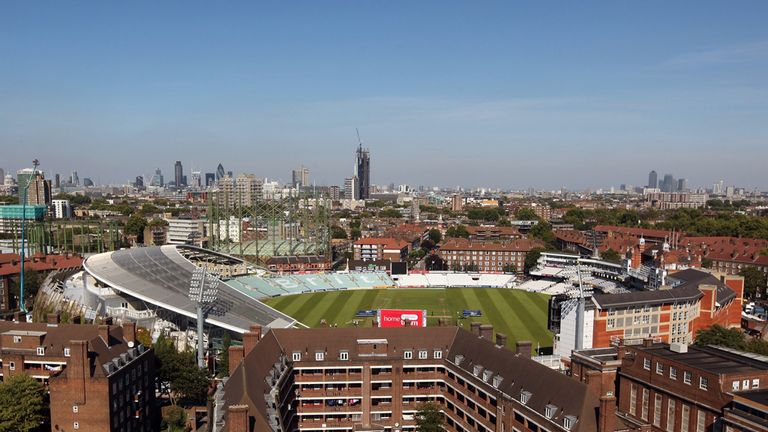 England have the motivation of a first ever 4-0 victory over Australia, as well as climbing up to second in the ICC Test rankings, while Michael Clarke's men will be craving a much-needed consolation win to end their eight-Test winless streak.
Both sets of players have had eight days to regather themselves after a dramatic conclusion to the fourth Test in Durham, where nine evening wickets fell to hand England the series outright.
Building up to day one at the Oval, we look at the main talking points ahead of the Test.
Australia change two for decider
Australia have reacted to their desperate plight by making two changes to their starting XI for the final Test of the series. Pace bowler Jackson Bird and batsman Usman Khawaja have been axed, with Mitchell Starc and all-rounder James Faulkner coming in to the side. Faulkner will make his Test debut having taken 11 wickets in eight one-day matches for his country. Captain Michael Clarke revealed that Shane Watson would move up the order to replace Khawaja at three, with Brad Haddin promoted to six and Faulkner batting at seven. "You have to perform as a player. If you don't there is a chance you could be dropped," said Clarke. "That is the life we live, playing sport at the highest level."
Kerrigan, Woakes called up
There were two surprise names included in England's 14-man squad for the final Test, with Lancashire left-arm spinner Simon Kerrigan and Warwickshire all-rounder Chris Woakes both named amongst the Oval party. It would come as an even bigger surprise should either be named in England's starting XI, however there will definitely be one enforced change due to injury to Tim Bresnan.
Bob and Cook back Tremlett
Former England pace ace Bob Willis believes Tremlett is nailed on to play in the series finale. With Bresnan (stress fracture in lower back) and Graham Onions (broken finger) both ruled out of the match, Willis believes the England selectors will opt for Tremlett ahead of Middlesex paceman Steven Finn. "With Bresnan out with that stress fracture of the back at the Kia Oval Chris Tremlett will come in. Surrey and England have been monitoring his progress very carefully this season," Willis told Sky Sports News. "He is now back to full fitness and bowling well." England captain Cook refused to confirm Tremlett's place in the side but admitted that the Surrey man has a great chance of making the starting XI.
Tremlett desperate for chance
After not representing England in Test cricket for almost 20 months, Tremlett admits he is desperate to be back involved at The Oval. The door appears open for the 6ft, 7in seamer due to Bresnan's unfortunate injury and the Surrey man looks favourite to fill his boots for the final Test of the series. "I'm very hopeful," he said of his selection chances. "It's been a long time coming. It's been great to have been back involved in the last two Test squads. Having injuries over the last two years I'm dying to get another opportunity at some point. It was great to be involved in the Ashes in Australia, and great to be involved here and being around the guys here. Unfortunately for Tim Bresnan he's got injured and there's an available spot there. Hopefully it's myself that can get that opportunity."
Haddin eyes consolation
Australia vice-captain and wicketkeeper Brad Haddin believes Australia 'deserve' to end the series with a win. The Baggy Greens flirted with victory at Trent Bridge, Old Trafford and Durham but were well and truly outplayed in the second Test at Lord's. Haddin is now determined to end Australia's winless streak, which is in danger of challenging their 14-Test winless run from 30 November 1985 to 26 December 1986. Haddin said: "England have won this series and have played the better cricket and deserve to be in the position they are. I don't think momentum or anything will make a difference. I only know that in our changing room we'd like to get a win. We think we've played good enough cricket on this tour to deserve a win in a Test match."
Strauss - Bairstow needs knock
Former England captain Andrew Strauss believes Jonny Bairstow "needs to make a meaningful contribution" at The Oval after a lean debut Ashes series so far. The 23-year-old Yorkshireman has scored 203 runs at an average of 29 against Australia this summer and is yet to register a century in his 20-Test career to date, although he did make 95 against South Africa at Lord's in 2012.
Strauss said: "Bairstow needs to make a meaningful score, just to nail down that number six spot. Bairstow went after Nathan Lyon straight away [in England's second innings in the fourth Test at Durham] and I think that's the way he has to play at number six; that's one of the reasons that he was picked in the side in the first place - to play aggressively. We probably haven't seen enough of that so far. It's early days for Bairstow but he just needs that one breakthrough innings; once he's done it I think he'll relax into the role and he's going to get another opportunity at the Oval to do that."
Venue guide
The Oval has come a fair way for an area of south London wasteland which began life as a cabbage patch in the late 18th century. The garden market which evolved there was no more when, in 1845, the Montpelier Cricket Club upped sticks from Walworth and fetched in 10,000 Tooting Common turfs to lay a cricket pitch in the heart of Kennington. The land, as it still is now, was leased from the Duchy of Cornwall - hence the Prince of Wales' fleur-de-lis on the county badge - and in the same year Surrey County Cricket Club was formed. The Oval, in cricketing parlance, was a handy all-rounder in its first few decades: in addition to hosting the country's first Test in 1880 the venue was used for the first England-Wales and England-Scotland rugby union internationals and also witnessed the First FA Cup final in 1872 (Wanderers beat Royal Engineers 1-0, for all you pub-quizzers). The current five-storey pavilion was completed in 1898 but, for many, the most recognisable edifices in and around the ground remain the famous gas holders which date from the early 1850s. Naming rights to the stadium were first sold in 1988 - years before English football cottoned on that lucrative wheeze - and the innovation continues, with redevelopments of the pavilion and the OCS stand ongoing.
Weather forecast and toss
The forecast is decent throughout the match, with a high temperature of 25 degrees Celsius expected on the third day. There should be plenty of cloud cover throughout and the threat of showers increases from Saturday onwards. England have won the toss in the four previous Tests and opted to bat first on what is usually one of the quicker, bouncier surfaces with a fast-scoring outfield.
Watch day one of the fifth and final Ashes Test between England and Australia live on Sky Sports Ashes from 10am on Wednesday, or on the Ashes Events Centre available through the Sky Sports App.