Ashes: Michael Clarke defends Australia selectors ahead of fifth Test
Captain Michael Clarke has jumped to the defence of Australia's embattled selectors ahead of the fifth Ashes Test.
Last Updated: 20/08/13 5:17pm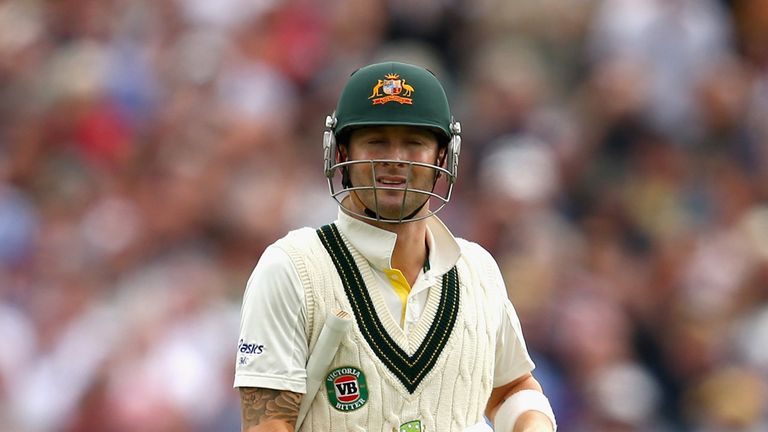 Australia go into the fifth and final Test at the Oval on Wednesday 3-0 down and trying to avoid becoming the first team for Down Under to lose an Ashes series 4-0.
Their main issue throughout the series has been the batting - eight men have been selected through the first four Tests in the top six.
And they made changes again for the Oval, with Usman Khawaja dropped, Shane Watson moving up to No 3 and Brad Haddin batting at No 6.
Not since the first two Tests of their disastrous tour of India earlier this year have Australia named the same top six.
That had led to criticism from, amongst others, ex-Australia captain Steve Waugh, who famously took 26 Tests to score his first century.
Waugh says the selectors need to give players a long run in the team, rather than chopping and changing, and he added that coach Darren Lehmann was wrong to warn under-performing batsmen that their international careers are now at stake.
Consistent
But Clarke says it is up to the individuals to prove they are worthy of an extended run.
"I know there's been a lot of talk back home about consistency of selection but the selectors are trying to do everything in their power to help us win and if guys aren't performing, unfortunately you can't select them," Clarke said.
"We're trying, or the selectors, I guess, are trying to be as consistent as they can but we're also here to win the game.
"This is not a charity tour. It's not about giving blokes a go and hoping for the best. All the selectors can do is pick what they feel is the best XI but it's up to us as players to do our job and unfortunately our batting has let us down throughout the series so far.
"But, I've said it before, I'll say it again, we've got blokes with the talent there that can do it.
"Apart from Ian Bell (the England batsman who has scored three hundreds so far this Ashes) no-one else has really blitzed the batting.
"But you've just got to keep fighting. You've got to find a way to get as many as you can."
Watch day one of the fifth and final Ashes Test between England and Australia live on Sky Sports Ashes from 10am on Wednesday, or on the Ashes Events Centre available through the Sky Sports App.