Darren Lehmann: I was wrong to call Stuart Broad a cheat
Darren Lehmann admits he was wrong to launch a verbal attack on England bowler Stuart Broad.
Last Updated: 26/08/13 4:37pm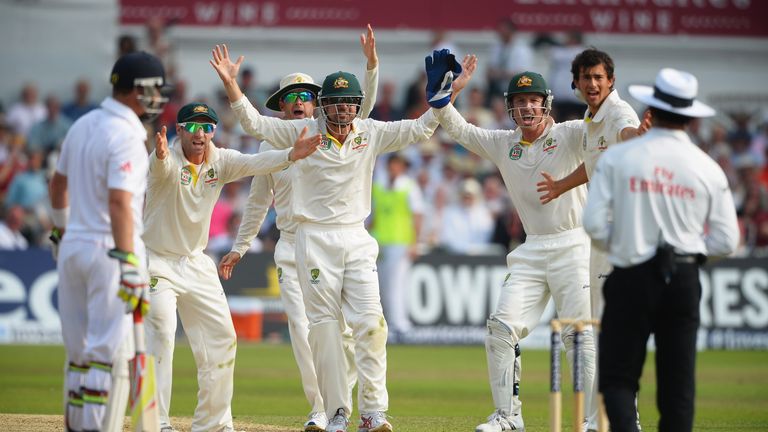 In a radio interview with an Australian station, Lehmann accused Broad of being a "cheat" for not walking during the Trent Bridge Test, and then urged Australia supporters to give the fast bowler a hard time in this winter's Ashes series Down Under.
"I've had a chat with him already. We just move on," Lehmann said.
"It was a good learning curve for a new coach, wasn't it? You know, it was a jovial setting but you've got to learn from that. I've got to learn and improve from that.
"The players aren't on their own in trying to improve. Coaches have got to improve so that's something I've got to get better at."
Lehmann believes the pitches in Australia will help his side narrow the gap with the tourists this winter, but admits he and the team need to examine their performances this summer and learn from their mistakes.
"We've got to manage to find a way to get England out earlier. I think we bowl in good areas, the pitch is probably a bit slow, in Australia they'll speed up and we'll actually be able to bowl them out quicker I would think," he said.
"We can't control what they do, what we need to do is get better.
"It's a good learning curve for a new coach. I need to learn and improve, players aren't on their own, coaches need to improve so that's something I've got to get better at."
Challenging
Australia went for broke in trying to win the fifth Test at the Oval, and Lehmann confirmed he intends to adopt a more aggressive approach to winning games.
"I think it's that 'learning to win' attitude. If you look at the way we played we were quite happy to gamble and lose a game and set up a game. Packed house, the English fans have been great all summer but to come out and see that on the last day was outstanding," he said.
"We want to keep challenging the players and learn from the mistakes we make. We're going to make mistakes we understand that and we've got to improve from them. If we do that then we can challenge."
The Australia selectors have come under fire for chopping and changing their top seven. But Lehmann insists that will change in Australia.
"When we get our side for the first Test match, our batting seven, that will be the side for the first couple at least. We'll be pretty settled in Australia, knowing the conditions really well obviously different conditions here and how we wanted to play. Australia won't be an issue for that," he said.
And Lehmann insists that despite their drubbing in England, he is optimistic and happy in his job, which he only took a couple of weeks before the first Test.
"I'm still loving it - it's a great job, I'd like to win a Test match though," he said. "It's a fantastic job, now I've seen all the players here and I've got the ODI players starting Thursday so I get to see them and deal with them.
"I think we need to look at how we're doing in those areas too, Twenty20 and one-dayers so by the end of the tour I'll have a really good mind-set with all our players which will be quite comforting for me as a coach. The players seem to be enjoying it which is great but we need to win some games."