Ashes: England stars probed after urinating reports at The Oval
England look set to be investigated after reports players urinated at The Oval during Ashes celebrations.
Last Updated: 27/08/13 5:11pm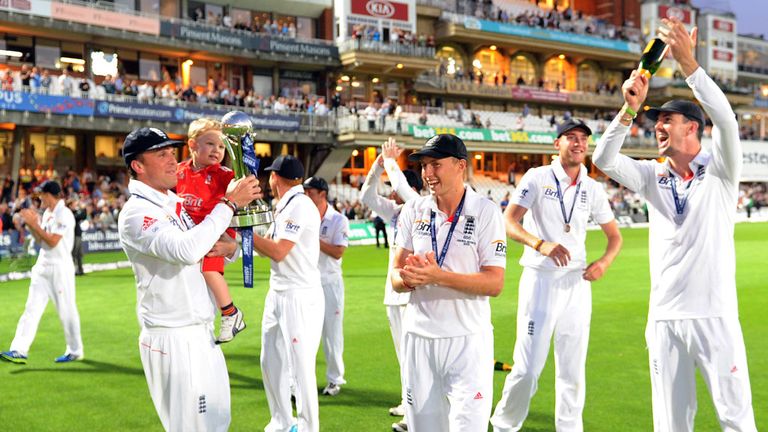 Spin bowler Graeme Swann admitted he had been involved in a late-night "private celebration" with some of his team-mates on the wicket on Sunday, but played down the severity of the team's conduct.
The England and Wales Cricket Board has been unavailable for comment, but Surrey Cricket Club revealed the governing body will be acting on the matter.
Chief executive Richard Gould told the Sun: "We've spoken to the ECB and they say they will be looking into the matter.
"We would be very disappointed if it turns out they did urinate on the pitch."
England secured Ashes glory over the weekend after drawing the final Test when bad light halted their push for a 4-0 victory, needing 21 runs from four overs.
Australian journalists have reported seeing England pacemen James Anderson and Stuart Broad and batsman Kevin Pietersen relieving themselves on the pitch in south London.
Private celebration
Swann told The Sun: "We did go out to the middle of the pitch, all the lads, drinking beers, singing a few songs and enjoying each other's company.
"I think the call of nature might have come once or twice but it was nothing untoward. It was midnight, a private celebration in the middle of the pitch and the ground was dark."
Australia legend Shane Warne called the England players "crass and arrogant" after hearing about the incident.
"Unfortunately, the way people are judged these days it's best to celebrate within the confines of the dressing room," he told the Daily Telegraph.
"Stay in there as long as you like, get as drunk as you like if that is what you want to do and enjoy your team-mates and the moment.
"But to go and disrespect something as ancient as the Oval pitch in such an unnecessary and crass way is a pretty ordinary and arrogant thing to do, I wonder also if the opposition was mentioned to?"