England team apologises for behaviour during Oval Test celebrations
The England team have apologised for their behaviour during their celebrations on the Oval pitch on Sunday night.
Last Updated: 28/08/13 10:22am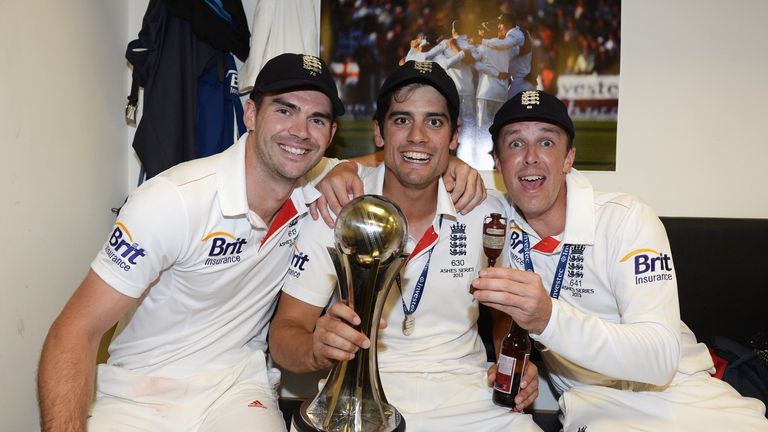 Members of the team were reported to have urinated on the pitch during their celebrations after completing a 3-0 Ashes series win over Australia.
Spinner Graeme Swann appeared to confirm the allegations in his newspaper column, and Surrey reported the incident to the ECB, claiming the governing body has promised to investigate.
The team has now issued an apology which read: "The England cricket team would like to state that during our celebrations after winning the Ashes at no time was there any intention to disrespect Surrey CCC, the Oval or anyone else involved in the game we love.
"As a team we pride ourselves on respecting all things cricket including the opposition and the grounds we play at. We got carried away amongst the euphoria of winning such a prestigious series and accept that some of our behaviour was inappropriate.
"If that has caused any offence to anyone we apologise for that and want to reassure people that it was a simple error of judgement more than anything else."
Australia legend Shane Warne describing the alleged actions as "crass" and "arrogant" and the issue became political, with Sports Minister Hugh Robertson telling the Daily Telegraph: "If it happened, it's not good behaviour."
Despite the apology T20 captain Stuart Broad - one of the players reported to have urinated on the pitch - is likely to face more questioning, in a press conference at lunchtime designated to preview the first NatWest Twenty20 international against Australia at the Ageas Bowl on Thursday.
Broad will be the first of England's Ashes winners to front the media since the alleged incident and subsequent apology, which comes after Monty Panesar was sacked by Sussex after being found guilty of urinating on a bouncer's head at a Brighton nightclub on August 5.