NatWest Series: Boyd Rankin targeting winning response at Edgbaston home
Boyd Rankin is hoping a return to Edgbaston will result in a series-levelling victory for England against Australia.
Last Updated: 09/09/13 4:36pm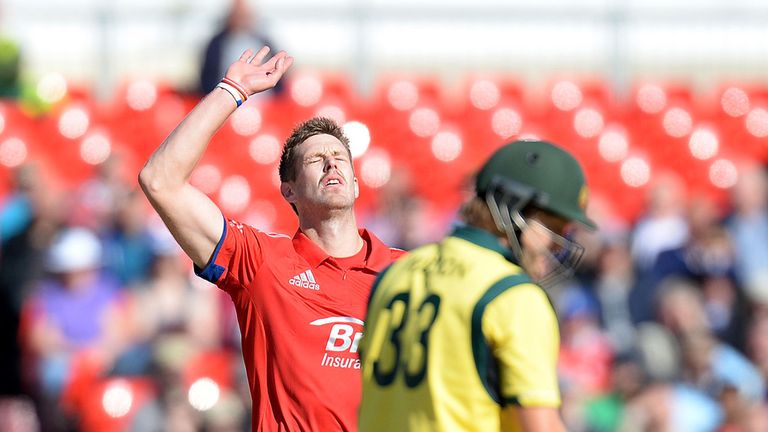 The 6ft 7in Irishman was one of the few success stories for England at Old Trafford on Sunday as they went 1-0 down, with three to play, to Australia in the NatWest Series.
Rankin was far from flattered with figures of 2-49 and, in only his second one-day international appearance for his adopted country, he was the one bowler who managed to keep Australia's batsmen quiet for a worthwhile period.
"I was pleased with the way I bowled myself, but as a team we didn't perform as well as we could have," he said, reflecting on an 88-run defeat which leaves Eoin Morgan's young side with no wriggle room for the remainder of the series.
"We are a young side who are learning all the time and we will try and bounce back for Wednesday."
Rankin is encouraged by his current form, but believes he can still do better with three matches left in the series.
"Personally it has been feeling quite good" he added. "It didn't feel quite up to what it has been at some stages this season, but it has (still) been good enough to pick up a few wickets."
Opportunity
Australia number eight James Faulkner prevented Rankin from taking his first professional hat-trick, although he has been mighty close on three occasions now this summer.
"I think I have had one in my career - which was in a school game," he said.
"I have been on three hat-tricks this year, but just can't quite seem to manage to get the third wicket."
It may be asking a little much to put that right on Wednesday, but the Warwickshire seamer will have a spring in his step in familiar surroundings.
"It will be nice to walk out and play in front of my home crowd - really good," he said.
Rankin did not stay long in the north-west and was already back in the midlands on Sunday night - trying to make the most of the opportunity to prepare on home soil and in his own bed.
"I stayed at home last night and I will try and stay at home as much as I can," he said.
"We have been on the road for the last couple of weeks, so it will be nice to have my own bed. For a big lad, it makes a difference."