NatWest Series: Ashley Giles backs Ben Stokes to step up as third seamer against Australia
Ashley Giles has leapt to the defence of his inexperienced squad ahead of the third ODI against Australia at Edgbaston.
By Joe Drabble - @SkySportsDrabs
Last Updated: 11/09/13 2:11pm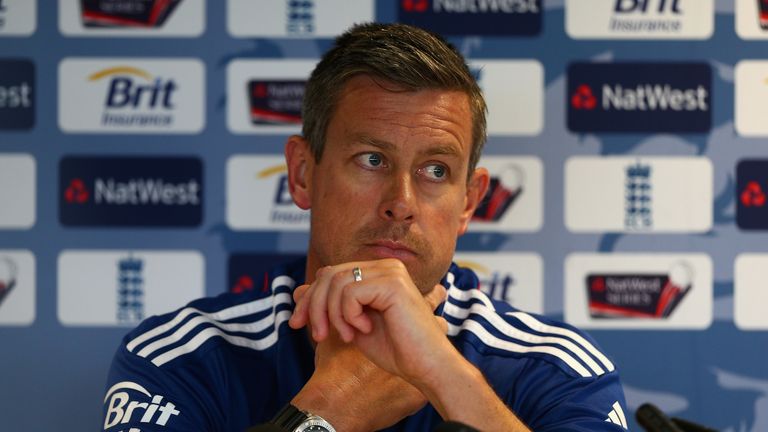 Giles returns to his former Warwickshire home with his side under pressure to turn the five-match series around after an 88-run hammering in the second game at Old Trafford on Sunday.
With the first match at Headingley washed out without a ball being bowled, England trail their fierce rivals 1-0 with matches in Birmingham, Cardiff and Southampton still to play.
Asked whether England have failed to find the right balance in their starting XI after opting to rest a number of key players for the series, Giles insists there is enough ability in the squad to beat Australia.
Fantastic
He said: "I've heard a lot about the balance of the side. Ben (Stokes) is playing as a third seamer and is an improving bowler, has good skills, can bowl mid 80s upwards and has that potential to do that job on its own.
"Otherwise the balance is what we played at the Champions Trophy when we were very successful (runners-up).
"Before the Champions Trophy against New Zealand we played five specialist bowlers and that didn't really work and that's when we brought Ravi (Bopara) back and since that time he's had a fantastic run in the side so I don't think we're just fiddling overs.
"But when you've got inexperience in the side you're going to have to suffer some pain occasionally to get some gain and that's what we're getting. Saying that, there's no reason why this team can't win these games of cricket.
"It was an exceptional batting performance by Australia the other day (at Old Trafford), we didn't get a wicket for about 22 overs and they played (James) Tredwell extremely well in the middle. There were a lot of reasons why we lost that game, not just inexperience."
Giles explained England's focus is on building towards the 2015 World Cup.
"Obviously we want to win the series outright, but there are other successes to be had," he added.
"With an inexperienced bowling attack and someone like (Michael) Carberry at the top of the order, we've had an opportunity to look at some young players.
"If we came through the series and they had some success and they'd moved on and improved, it gives us players to look at down the line, with the 2015 World Cup in mind.
"Experience against this Australia side is hugely valuable for them, and for us looking at players."
Options
It seems unlikely that Giles will be tinkering with his team just yet, although bowling all-rounder Chris Jordan, teenage seamer Jamie Overton and Luke Wright remain the options available in the current squad.
"We always get upset when we lose - we wouldn't be in the jobs we're in if we weren't," said Giles.
"If the pitches are livelier, you might play four of the big guys. But at this stage I don't see us making any huge changes."
Watch the third NatWest Series ODI between England and Australia at Edgbaston this Wednesday from 1.30pm on Sky Sports 1 HD.