Ashes: England bowler James Anderson excited ahead of Australia series
James Anderson spoke to Sky Sports as England prepare to fly to Australia next week for the 'return' Ashes series.
Last Updated: 16/10/13 12:45pm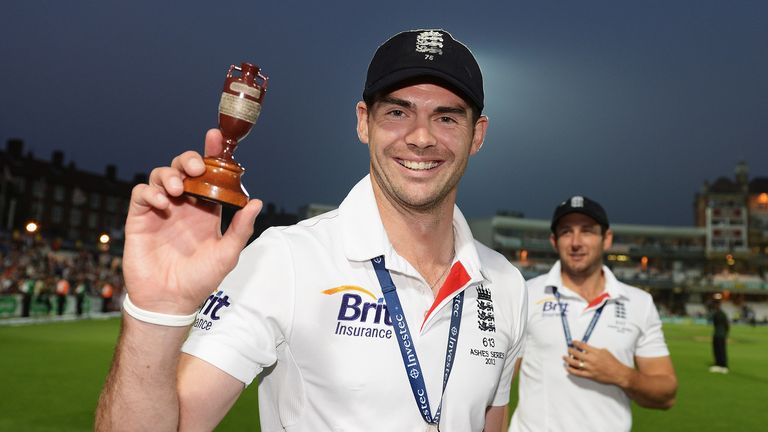 Having seen off the Australians 3-0 on home soil over the summer, England will travel down under for the second part of these back-to-back Ashes series.
Anderson admitted that whilst every tour with his country is something to look forward to, the Ashes is that little bit different.
"It's great, it's something that we all look forward to," he told Sky Sports.
"Obviously, every tour we go on as an England player is great but the Ashes is something really special and something that we - certainly I - grew up wanting to play in. Like I say, it's something we all look forward to and we're really excited about going.
"Obviously, for us, it's not long since we finished the Ashes in England. The excitement is always there when we're going abroad in the winter and for it to be a back-to-back Ashes, everyone's really excited and ready to get their teeth stuck in to what's going to be a very tough tour."
Despite the 3-0 scoreline, there have been claims from the Australians that they have 'worked England out', but Anderson argues that the side simply weren't on top form.
Improve
"I think during the summer we certainly didn't play to our best," said the England seamer. "Certainly the guys at the top of the order will put their hands up and say they didn't get the runs that they would expect of themselves.
"The bowlers were possibly a little bit inconsistent and going to Australia we know we're going to have to be consistent and play somewhere near our best. The exciting thing for us is that we know we can improve; hopefully we can do that this winter."
With the likes of Chris Tremlett, Stuart Broad, Steven Finn and Boyd Rankin joining Anderson to make up the seam attack, England will certainly not be lacking height as they look to make the most of the quick Australian wickets.
"I'll be the odd one out to start with!" admitted Anderson. "I think it's really exciting that we've picked the bowlers that we have.
"Not only are they tall, I think they're the best bowlers in English cricket at the moment. They've all got a different set of skills and they'll bring something different to the team. I think it's great and exciting that those guys have been picked."
Anderson, who on Wednesday signed a contract extension with county side Lancashire, was also full of support for England coach Andy Flower, whose future has yet to be decided.
"Certainly from a player's point of view, we want him to stay as long as possible and continue the success he's brought already," he added.