Australia bowler James Pattinson hopes to return from back injury in third Ashes Test
Australia paceman James Pattinson hopes to recover from his back injury in time to face England in the third Ashes Test.
Last Updated: 18/10/13 1:51pm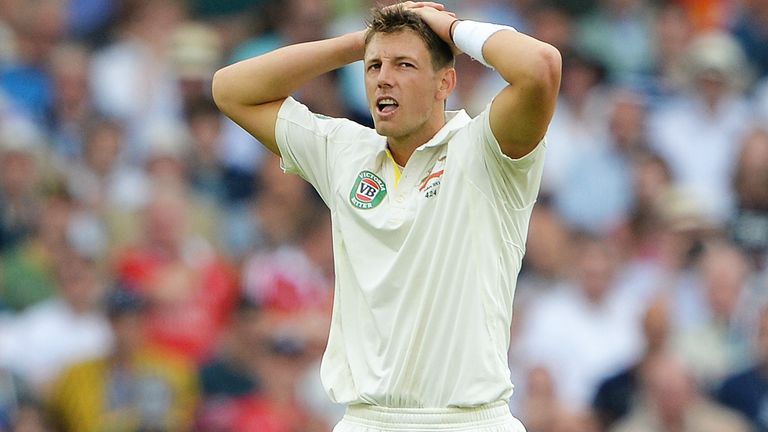 Pattinson suffered a stress fracture in his lower back during this summer's 3-0 series defeat in England, but his rehabilitation is ahead of schedule.
The 23-year-old was sidelined for all but the first two tests against England and is keen to play his part as Australia attempt to regain the urn at home.
"It's all going pretty well at the moment," said Pattinson.
"I had a scan on Tuesday morning and came back all clear, so all the healing part is over now and I can stuck into lifting some heavy weights and start back bowling next week and go from there.
"Third, fourth test could be on the cards.
Return
"(I'm aiming for) the WACA ... Hopefully it's nice and green up there and I can get back into the Australian colours up at the WACA."
Craig McDermott will return to his role as bowling coach for the Test matches, while Ali de Winter will assist the bowlers in the limited overs series.
Pattinson enjoys working with McDermott and believes Australia will benefit from a strong all-round coaching line-up.
"He did a great job with us beforehand ... A lot of the new boys know Billy (McDermott) quite well and he's very good at what he does," said Pattinson.
"It's fantastic to have Billy back in the fold and it'll be good to work with him again.
"Now we can have, obviously, a specialist in the limited overs and a specialist in the tests, it'll make it a bit easier for the bowlers adjusting.
"It'll give us a little bit more clarity as a bowler jumping between the three forms (of cricket)."