Australia all-rounder Shane Watson confident of being fit for Ashes opener
Australia all-rounder Shane Watson believes he will be fit for the opening Ashes Test later this month.
Last Updated: 04/11/13 11:11am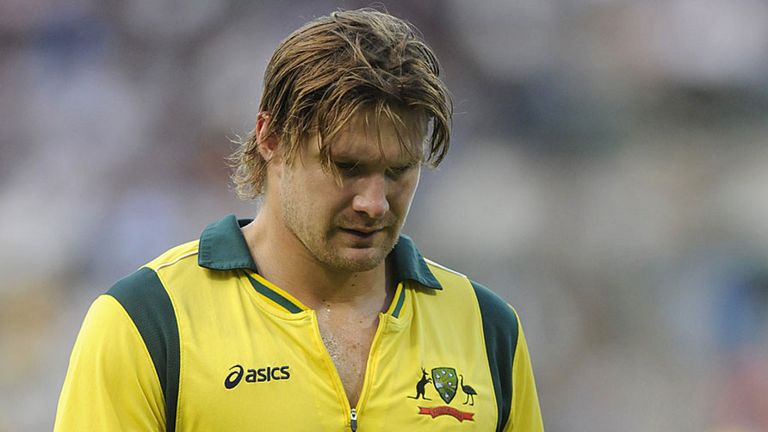 The all-rounder pulled up clutching his hamstring while bowling his sixth over in the final one-day international against India at the weekend and immediately left the field for treatment.
The 32-year-old was unable to take his alloted No 3 slot in Australia's reply, although he did arrive at the crease at the fall of the sixth wicket and hit a rapid 49 from only 22 balls despite clearly being in pain.
Watson will now undergo scans on the injury, but he is confident the problem is not too serious and he expects to be ready to take on England at the Gabba in Brisbane on November 21.
Speaking to reporters on his arrival at Sydney airport, he said: "It's not too bad. I've had a few niggles like this even over the last eight or nine months, so hopefully it won't be too bad at all."
Asked about his prospects of playing in Brisbane, Watson added: "I'd never say no doubt but I've been able to get on top of this sort of thing over the last eight or nine months with a few niggles that I had even throughout the Ashes as well.
Confident
"So I'm very confident that things should work out okay over the next couple of days and the results will be what I think they are and there shouldn't be any problems."
Watson also defended his decision to bat at No 8 in the 57-run defeat to India after aggravating his hamstring while bowling.
"In the end the situation of the game meant I needed to come out and try and give us a chance to win," he said.
"Unfortunately I wasn't able to bat in the top at No 3 to try and really give us a chance, but you want to do anything you can when it was a game to decide the series so it was certainly a big game for us.
"Unfortunately it didn't work out but in the end, I don't think I injured myself too much more."
Watch the Ashes live on Sky Sports this winter, beginning with the opening Test at the Gabba. Coverage begins at 11pm on Sky Sports 2 HD on 20 November.