George Bailey looking forward to first Ashes Test experience at the Gabba
George Bailey hopes to enjoy his first Ashes experience and start a successful career in international five-day cricket.
Last Updated: 17/11/13 2:23pm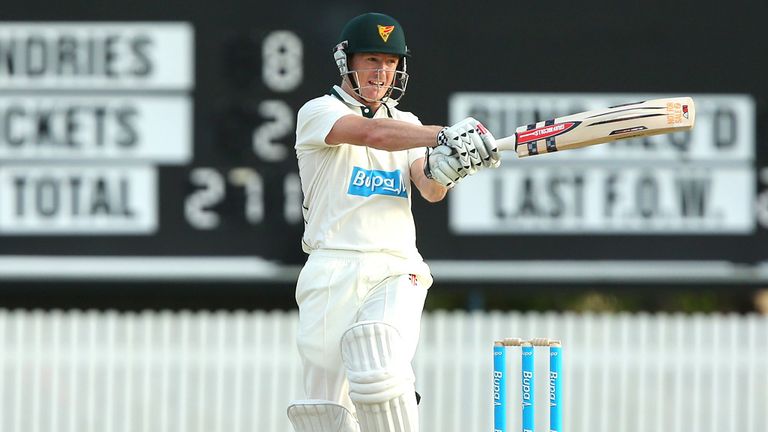 Bailey arrives in the Australia Test ranks relatively late in life, at the age of 31, and he will fill the vital No 6 role when the first Test starts in Brisbane on Thursday.
He knows plenty about international cricket from his time captaining Australia in the limited overs and Twenty20 formats, but knows a slow start could see his Test career be short and less than sweet, much like his good friend Rob Quiney.
Quiney struggled on his debut tour in South Africa and has since dropped way down the pecking order and Bailey has leant on him, and other team-mates, to try and forge some idea of what is ahead for him.
"Having been around this side for a little bit I know what it's like but I think this build-up is going to be completely different so there's a sense of anticipation there and not really sure what it's all going to be like," Bailey said.
"But I've had the chance to talk to Bobby Quiney and Wadey and Xavier Doherty over the last few days and the overriding thing from them is just been to make sure you enjoy it and sometimes in these situations you have to remind yourself of that because there's a lot going on."
Bailey made a few starts playing for Victoria against Tasmania in the Sheffield Shield, a game in which Quiney shone, but he is happy to have adjusted back to playing red-ball cricket again.
Pretty good
"I've felt pretty good the last couple of games. Obviously it's going to be a pretty different wicket, the Gabba wicket compared to the two we've played on where bowleds and lbws were the preferred mode of dismissal, so it will be good to get on something with more bounce," he added.
"I've enjoyed having a couple of games and getting in nets and getting used to different tempo, that's as big an adjustment as anything, but it was nice to play those games.
"I'm still feeling really good, a bit frustrated I haven't been able to go on with starts but in terms of how I'm feeling and hitting the ball, couldn't be happier.
"I'm not sure being older makes it easier but I think having played the other formats, in terms of with crowd build-up, media stuff, that will be a little bit easier to handle.
"The advantage of being 31...you only get one crack at it, so I'll go out there, I'll be me. I'll play the way I play and I won't go out trying to be anything but myself. And that's a good thing."
Watch the first Ashes Test between Australia and England live on Sky Sports 2 - build-up to the first ball starts at 11:00pm on Wednesday