Ashes 2013-14: Shane Watson fit to bowl for Australia in first Test
Australia all-rounder Shane Watson has declared himself fit to bowl in the first Ashes Test in Brisbane.
Last Updated: 19/11/13 8:38am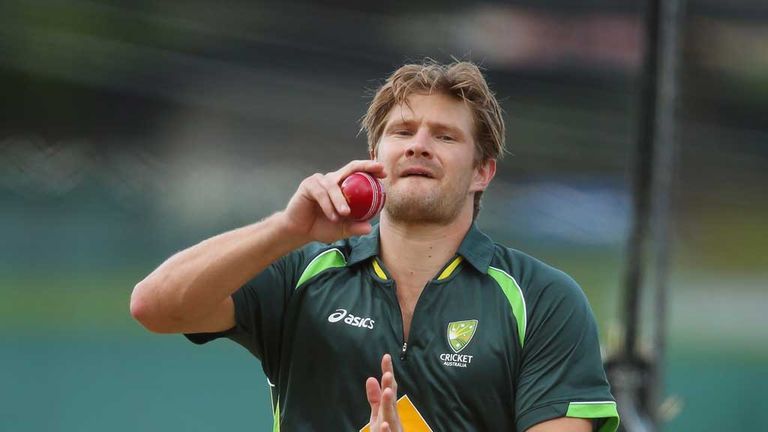 Watson says he has recovered from his hamstring injury and will be able to fulfil batting and bowling duties at the Gabba, though he will not be bowling at full pace.
"I'm confident I can provide a role. I probably won't be at full capacity with the ball," he said.
"I won't be going flat out in this Test. Like the first Test (of the last series) I had a niggle there and did a job and bowled pretty tight and gave the other bowlers a rest.
"I will be able to do a good enough job. By Adelaide I hope my body will be more hardened to go harder in the second Test.
"It will just depend on how I continue to go over the next few days and get a gauge on what capacity I'll be able to play. Everything's progressing really well at the moment."
Watson's availability with the ball means Australia are likely to field a fast bowling attack of Mitchell Johnson, Peter Siddle and Ryan Harris, with James Faulkner missing out.
The Australian bowlers impressed in the summer series in England - the hosts never scored 400 in an innings.
But the batsmen flopped badly, and Watson, who himself squandered several good starts in England, says that must change if Australia are to win the Ashes back.
"That is the way we are going to win the Ashes," he said.
"As a batting unit we are going to bat for a long period of time, especially in the first couple of Tests. We will see where they are at physically and mentally. That is one of our biggest goals.
"We have no doubt they will keep coming but at what level? We haven't been able to challenge that level. Keep them coming back, get them fatigued and try to keep them that way as well. Don't let them off by batting badly and getting a rest."
Australia fast bowler James Pattinson will not be available in Brisbane but could be available for the Boxing Day Test in Melbourne as he recovers from his back injury.
"I've started back bowling and I'm off about half a run-up and bowling about 70 per cent now," Pattinson told Cricket Australia's website.
"Once I start back bowling it comes along pretty quickly and I'll hopefully be right maybe in a month's time.
"Obviously it was frustrating but I'm still young and hopefully I can just use this time to get bigger and stronger and make sure things like this doesn't happen again."
The opening Ashes Test gets under way on Sky Sports 2 HD from 11pm on Wednesday